Whipped Chainstitch Bands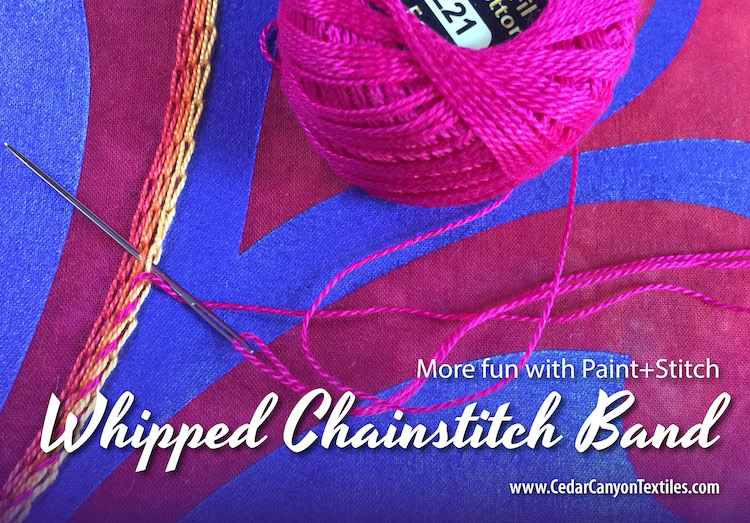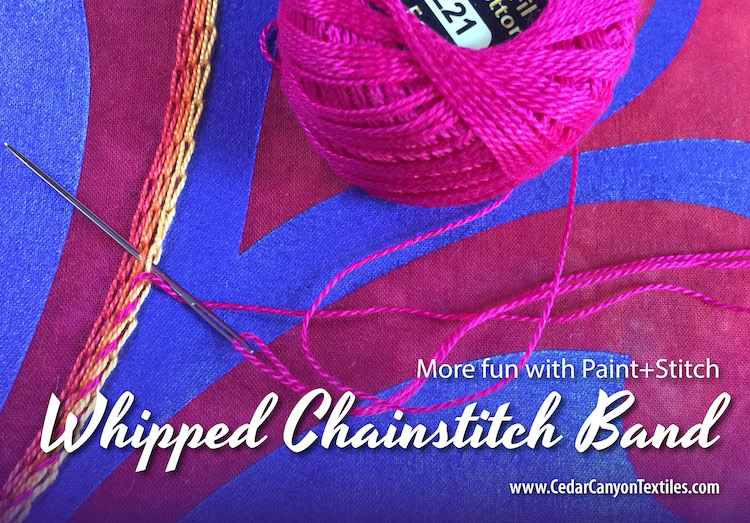 I've been working on the next piece in my StarFlower series, and I was looking for a new and different way to create a heavy band along the edge of a shape. After some trial and error, I settled on a Whipped Chainstitch Band.
Before we start, here's a peek at the center of the medallion. I decided to try my hand at lattice work. So far, I'm pleased with the results. Now… back to that whipped chainstitch band…
A Whipped Chain Stitch Band starts with multiple rows of Chainstitch worked right next to each other. For this project, I chose 3 colors from my collection of #Wonderfil Perle Cotton solids. (Yes, I have the entire collection of size 8 colors!) I love this collection for the vibrant colors.
Whipping the stitches together is pretty simple. In this photo, I'm whipping the right-hand loop of chain 2 to the left-hand loop of chain 3. To make things as simple as possible, I used a tapestry needle with a blunt point.
As usual, I had to try this out with more than one thread. My first choice was to use Laura Wasilowski's Sunrise variegated thread. I wasn't sure I liked the way everything blended together, so I decided to try again.
My next choice was a bright fuchsia from the Wonderfil line.
In my mind, the fuchsia thread should have stood out like a sore thumb. In reality, it blended far too well with the red-orange inner band and the background fabric. Oops! I guess that's why we do the test!
With a clear choice of colors in hand, I completed the next round of stitching. I'm happy to report that the Whipped Chainstitch Bands gave me exactly the look I wanted – a bold band of color with just enough variation to draw you in for a closer look.
More on Whipped Chainstitch Bands
I got the idea for this type of band when I was reading Mary Corbet's Lattice Jumble Sampler Guide. In that project, Mary used a band of 5 chain stitches with several different "whipping" options. The Guide is mostly about options for Lattice Work, but it's chock-full of other goodies if you take the time to read through it.
Your Turn
As alway, leave a comment below with questions or ideas about how you would create a wide embroidered band. I love to hear what you're thinking about!