Bailando en la Noche: An Art Quilt by Shelly Stokes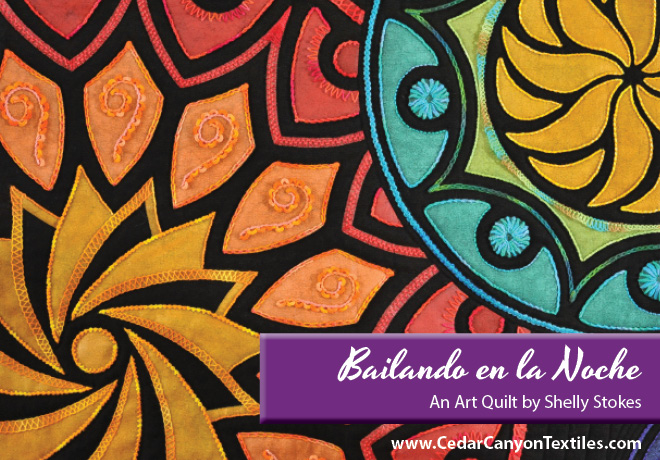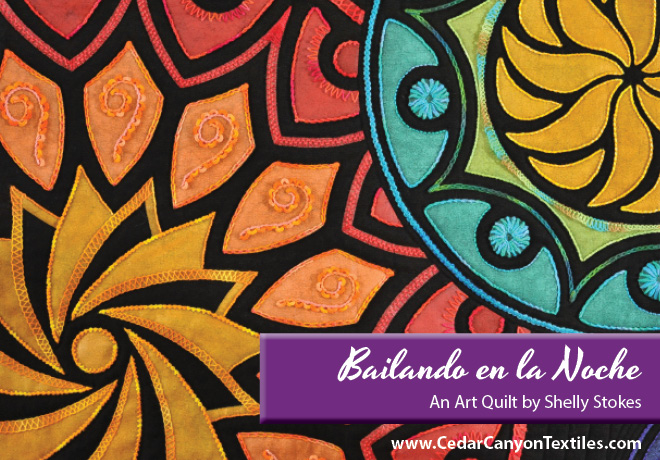 For the past 18 months, I have been working on a major art quilt project. Her name is Bailando en la Noche, or Dancing in the Night. I chose her name because the medallions evoke the swirling skirts of Mexican Folk Dancers under an exuberant night sky.
[Tweet "Check out "Bailando en la Noche" – a new art quilt by Shelly Stokes"]
I'm thrilled that the three panels are complete, have been photographed, are ready to hang in their first show, and an entry sent to the International Quilt Festival in Houston! Can you see me doing my happy dance?
I have shared bits and pieces of this adventure with you along the way, and today I'm excited to pull it all together. Here are some of the highlights in pictures and links to previous posts.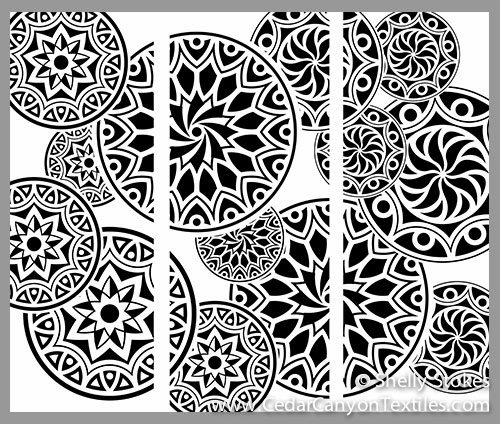 If the medallions on these quilts, look familiar, it's because they also appear on three of the Kaleidoscope rubbing plates. I arranged the designs in a drawing program, and played around until I was happy with the overall pattern.
I cut the design into three sections, created monster-size graphic files and sent them off to a large format printer at the local office supply store.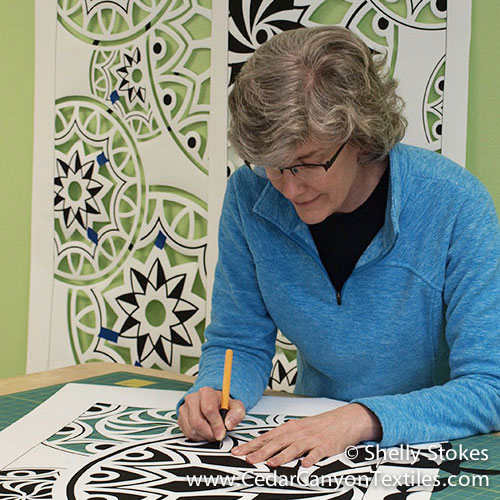 Cutting the stencils was quite a chore. At 50" tall, each stencil was nearly as tall as I am. I blew through a bunch of blades, but my trusty craft knife and I got the job done.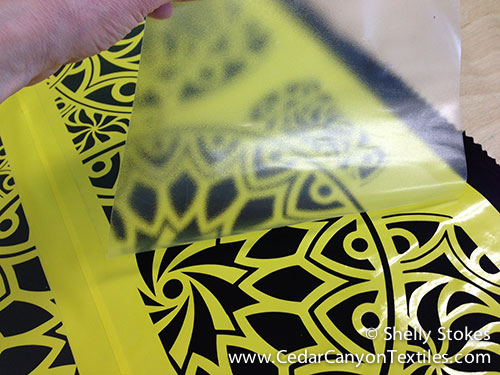 About the time that I was cutting out stencils, I learned about Silhouette cutting machines. I promptly placed an order and used it to cut a scaled down version of my stencils. It was incredibly valuable to paint out a test image of the design. I discovered several problems with the design and made a big change to my color scheme based on that test.
For more, see Test A Design With A Silhouette Cutter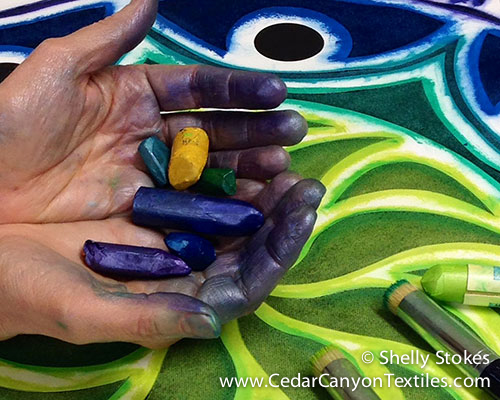 As I began painting, it became clear that I was going to have to push my ideas about stenciling to the extremes to get the bold, opaque images I wanted for this project. I spent weeks up to my elbows in paint – and loved every minute of it!
One of the biggest surprises was just how much paint it took to complete the three panels. I used up full size sticks of a dozen colors and big chunks of several others. That's one way to clean out the paint box!
For more, see Extreme Stenciling With Paintstik Colors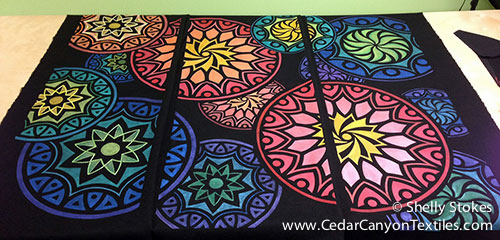 It was a happy day when I could lay the panels on my work table side by side. It was lovely to see the design come together so well. I had to go back and rework sections on the three panels to get the colors to match where the medallions were split, but it all came out quite well.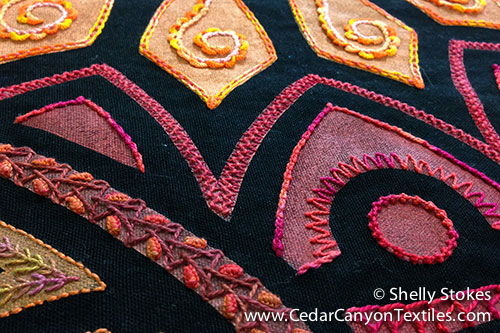 Then came the embroidery. All ten months of it. Yikes! Part of me can't believe that I spent almost a year hand stitching on anything – and part of me was amazed that I got it done so quickly.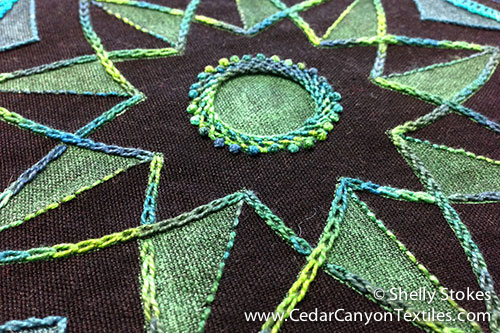 The fact that I enjoyed the hand stitching was a huge surprise for me. Before tackling this project, I had never had the patience to do hand work. I'm ever so grateful that my friend Jean Back started a Contemporary Stitching group at the local quilt shop – and that I had the good sense to join them!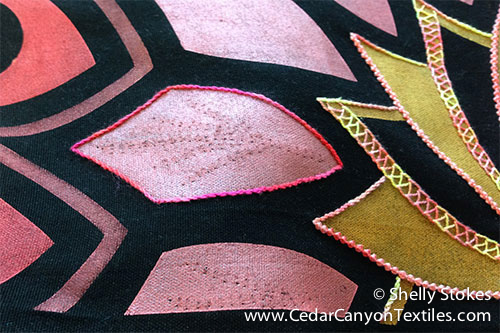 I would be lying to say that everything went smoothly. There were more than a few detours and bumps in the road. My biggest panic occurred when I made a very bad choice with an embroidery motif. It's tough enough to pull stitches from fabric, but when you pull stitches from painted fabric, you are greeted with big holes. Lots of big holes.
Thankfully, fabric and paint are pretty forgiving surfaces and I was able to repair the holes. Let's just consider this our little secret. I won't tell anyone if you don't!
For more, see Back Up To Move Forward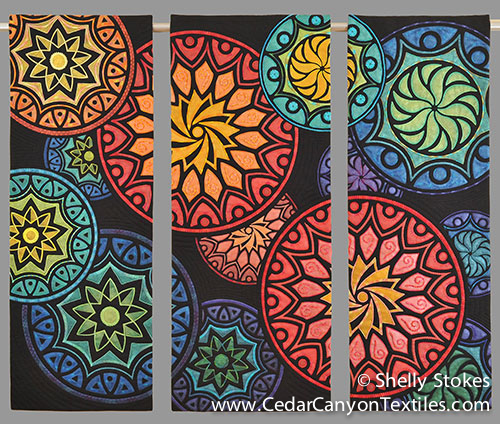 Here are the three panels of Bailando en la Noche. I smile with delight every time I walk into the studio where she hangs on the design wall. She will make her big debut at the Minnesota Quilt Show in June – and I hope that you will be able to see her at the Houston show this fall.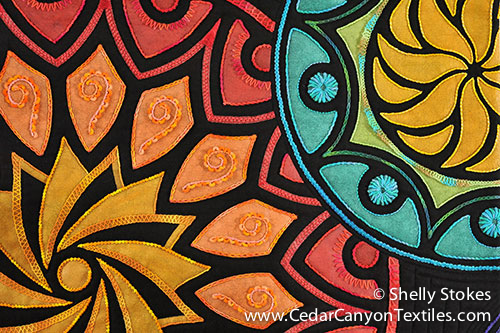 And here is a closeup shot from the middle panel. The design was created with paint, but the stitching brings it to life. Bailando en la Noche. Dancing in the Night. Are you ready?
[Tweet "See how paint and embroidery can have you Dancing in the Night!"]
Your Turn
I hope you enjoyed "meeting" my quilts. I would love to hear your thoughts. You are welcome to leave a comment below or over on our Facebook page.