Test A Design With A Silhouette Cutter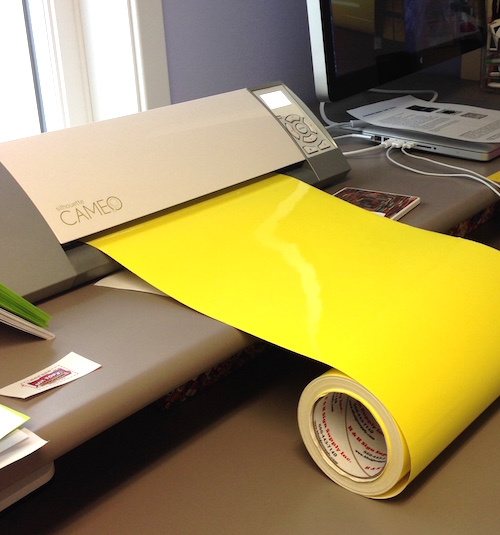 [vc_row][vc_column][vc_column_text]In a previous post, I talked about testing paint colors before starting work on a big project. Today I want to talk about a different, and perhaps more important, test that can save you from untold hours of unhappiness. With the new high-tech tools available today, we can make a scale-model of a design to wring out the bugs before we start on the real thing.
My current project involved making some really huge stencils. The design area of each stencil is 50" high and about 20" wide. In other words, they are much to large to make a full-scale test interesting. There just had to be a better way.
Silhouette Cutter to the Rescue!
I love it when the universe sends me the right person at the right time! I got a call from Terri Johnson at the beginning of 2014. She was looking for Paintstiks to use at one of her Silhouette Retreats. I had not been paying attention to the cutting machines that were coming into the market and I asked her to tell me more.
Terri graciously answered my questions about these amazing machines and assured me that I could use a Silhouette Cameo and sign maker's vinyl to make scale models of my designs. Needless to say, I was pretty excited — and I fired off a string of orders.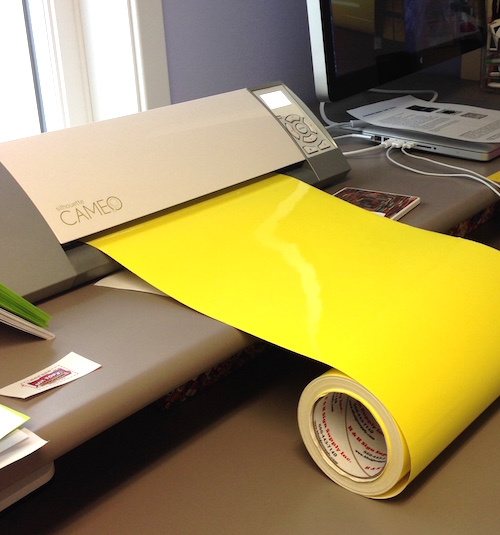 I'll be the first to say that there is a pretty large learning curve that comes with these machines. It's not rocket science if you are comfortable around computers and drawing programs, but it's certainly not trivial. (Of course it would help if I would take the time to sit down and play for a day, but I was in a hurry…)
As I usually do, I learned just barely enough to send my design from Adobe Illustrator to the Silhouette cutter, then watched in amazement as the machine worked it's magic. It took me at least 20 hours to cut the shapes from one of my big stencils, but the Silhouette cutter zipped out the small scale versions in about 20 minutes each!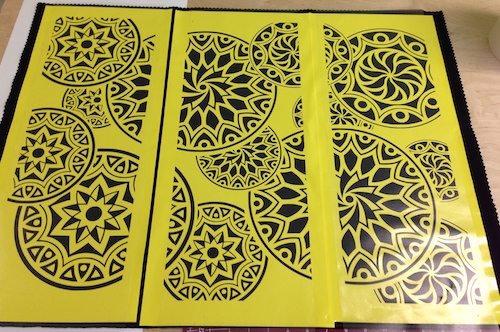 The next step was to transfer the vinyl stencils to a piece of black fabric. Sign makers do this every day, but the process of transferring the sticky-back vinyl from the backing paper to the fabric was all new to me. I had a few wrinkles here and there, but it was certainly good enough to paint out a test design.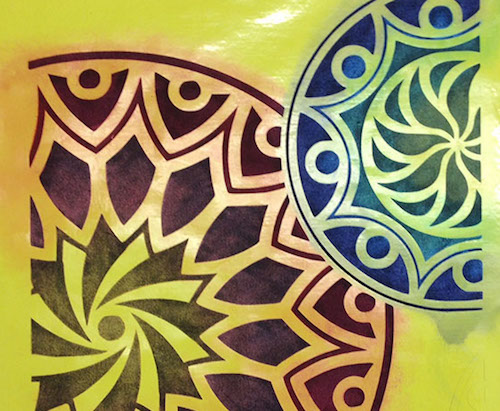 After one or two smaller experiments, it was time to test the colors I had chosen on the actual design. I pulled out my Paintstiks, shut off the phones and got to work. Because my test piece was small, about 30" x 20", I was able to paint out the design in just over 3 hours. I took a break for lunch then headed back into the studio to peel off the vinyl stencils.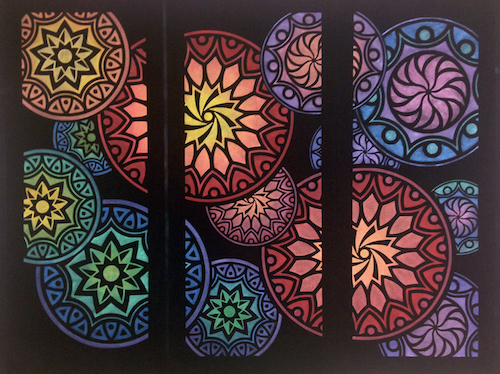 After I removed all of the vinyl, I had a perfect scale model of my design! Woohoo! My scale model allowed me to correct a few problems in the design — and to make changes to my color scheme before I started painting on the large panels.
I probably spent 20 or so hours figuring out how to cut the stencils on the Silhouette, transferring the stencils to fabric and painting out the scale model. But that was pretty trivial compared to the amount of work involved if I had decided to make big changes in the middle of my project.
I am amazed at the high-tech tools that are quickly becoming a part of everyday life in the world of fabric art. I expect that I will continue to do a lot of the work on my large projects by hand, but I thoroughly enjoy the ability to test my designs with these high-tech wonders.
Do you have a favorite high-tech art tool?
Learning to use my Silhouette cutter (properly) is high on my list of things to do. Do you have a high-tech tool that makes your art easier and more fun? Leave a comment below or click over to our Facebook page. I love to hear what's going on in your creative space![/vc_column_text][/vc_column][/vc_row]