A Talavera Awning in 4 Simple Shapes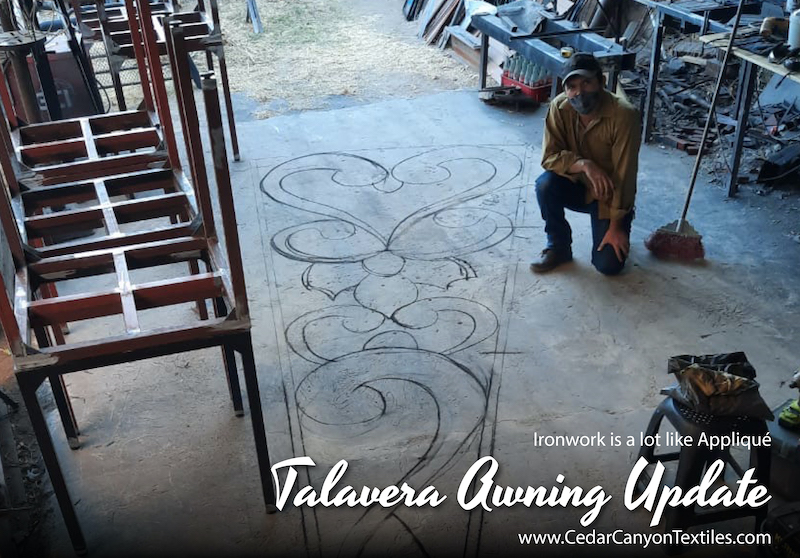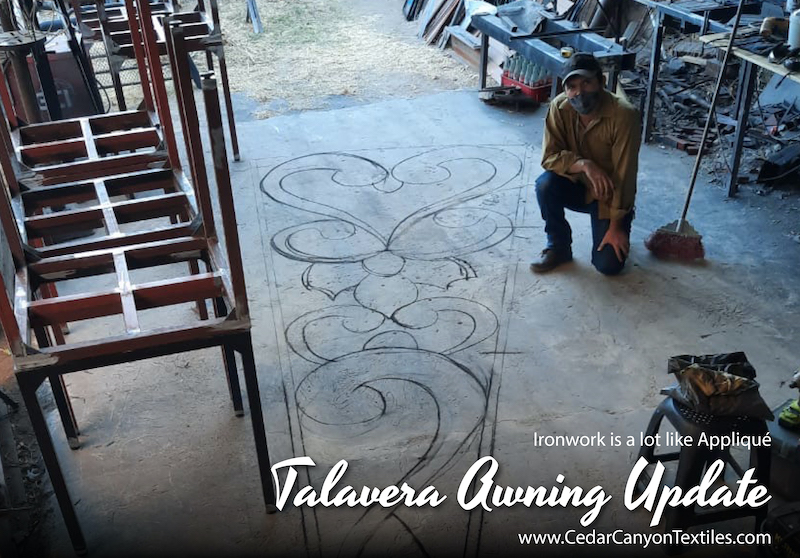 About a month ago, I wrote about my dreams for a Talavera Awning. Today, I'm excited to say that I have an update for you. It's going to happen! It's going to be a Talavera Awning in 4 simple shapes!
Yes, I'm excited. I see this awning design as an extension of my stitched paintings. It's too big to paint, so it's an opportunity to design something in a totally different medium. But, as with anything new and different, there was a bit of a learning curve. Here's how my adventure has unfolded so far.
As I mentioned in the first post, I made a rather complex drawing using a bunch of shapes inspired by Talavera dishes in my house. David, my iron guy, took one look and said 'holy buckets!'
In all honesty, I'm sure he edited that for my consumption. He probably was thinking that I was *%2*#@ nuts! Sandra, our interpreter, suggested that I simplify the design and see if that would be more workable. (Have you noticed that interpreters can gently modify the conversation as it happens?)
When the three of us sat down again, David still had reservations about the complexity. It was not a matter of not being able to create the shapes, it was a matter of making so many different shapes. 
Still not understanding the issue, I asked David to explain how an iron worker goes about making the shapes that show up in windows, doors, and stair railings. He explained that they start by making the first shape by hand. Then they make a 'mold' that allows them to make multiple copies of a shape more easily.
As the lightbulb in my head lit up, I thought "oh my goodness, it's like making templates for appliqué!" I asked if more copies of the same shape would be better than lots of different shapes. With a smile, he said "yes, now you understand."
Talavera Awning in 4 Simple Shapes
After the conversation with David and Sandra, I made yet another iteration of the Talavera Awning design. Version 3 was pretty close to Version 2, but I was able to cut the number of unique shapes in half. David will only have to make 4 molds for this design, which will make the work easier. (That assumes that one can make bending iron easier!)
Out of curiosity, I lined up the three options in my design software and counted the number of unique shapes. I started with 20 shapes, reduced it to 8 shapes, and finally made a design with only 4 unique shapes. (The 4th wedge is color-coded to show which shapes come from the 4 molds.)
With the simplified design in hand, David drew the design on the floor of his workshop. That allowed him to calculate the materials and make sure it would really work. Those wedges will be 18' long, so some of the shapes will be as tall as David!
For one last sanity check, I added the appearance of heavy beams to the outside of each wedge and figured out where to place the posts at the front. It's going to be amazing!


Thanks for reading
Thanks for reading. Your attention is the greatest gift you can give to a writer. I appreciate the invitation to be a small part of your creative world and hope you enjoy this little story.
If you'd like to join the conversation, leave a comment below.