The Magical World of Aztec Studio

A couple of weeks ago, my friend Victoria Schmidt suggested that we visit her friends Janice Kimball and Francisco Urzua in the neighboring town of Ajijic. Janice is an artist, writer and designer of tapestries and Francisco is a master weaver in the old tradition, working on a loom that has come down through generations in his family.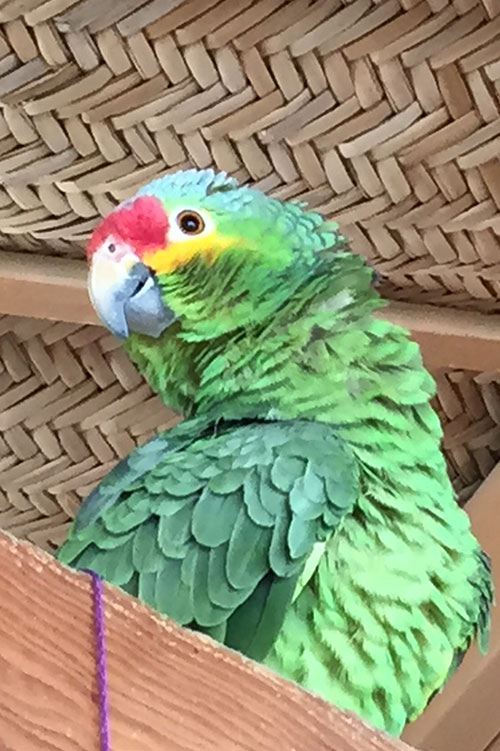 Of course, we must not forget Max Bird, who fancies himself the Public Relations Director and narrator of all things that happen at Aztec Studio! Max is quite the character – and definitely thinks that he rules the roost!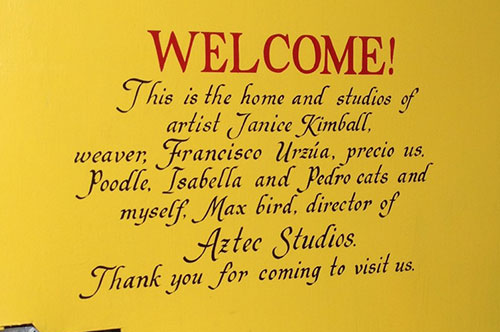 Now I had some advance information about the fascinating people that inhabit the studio. But for those who don't, the sign at the door should be a good indication that you are entering a special place.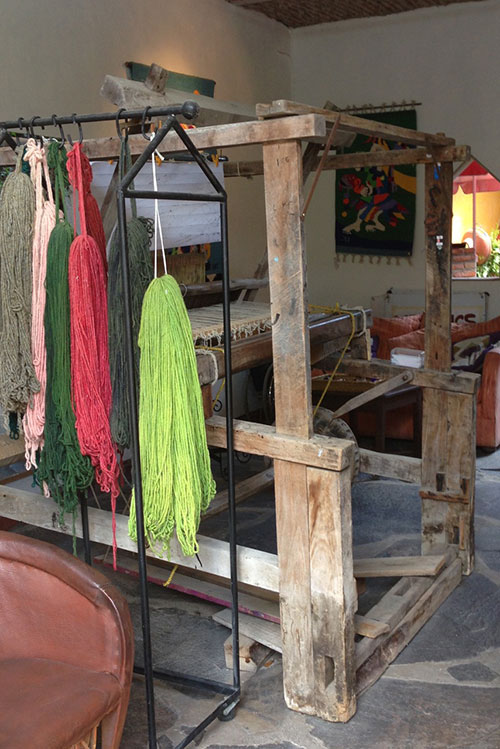 The loom just inside the front door is massive. It is one of the looms that Francisco's family used for hundreds of years.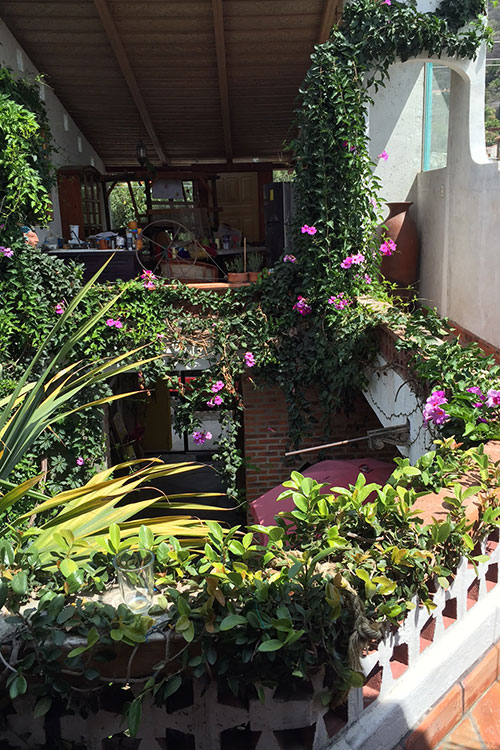 The studio building is fascinating. The property is just 15' wide. (Yes, you read that correctly… 15' wide.) But Janice designed an amazing space with four levels, taking full advantage of the depth of the lot and the unlimited sky above. This is the view from the back of the second level, looking toward Francisco's workspace.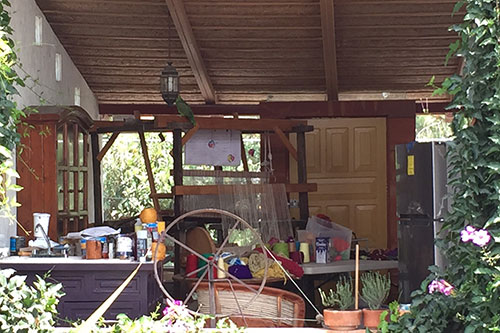 And this is a peek closer into that area. There is a bit of renovation going on, but you have to love the light, air and view that Francisco works in each day.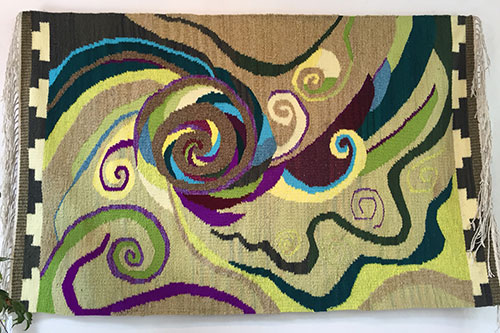 As for the tapestries, they are magnificent! This is from the series that Francisco calls "Cosmos" or "Universe."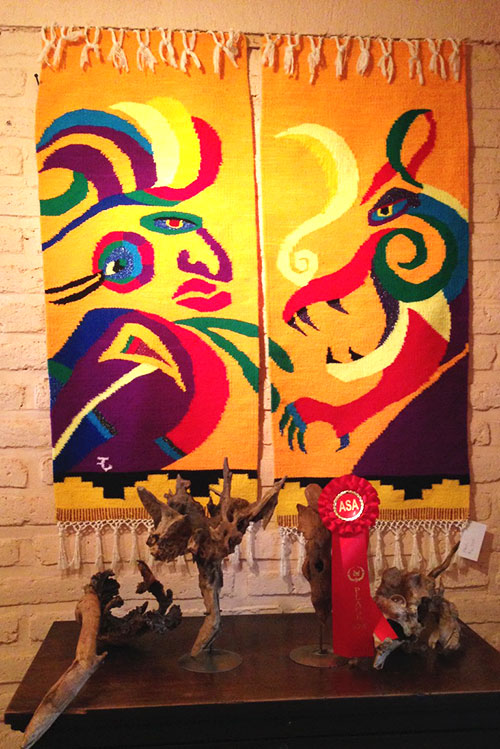 Many of the designs represent figures from Aztec and Mayan legends.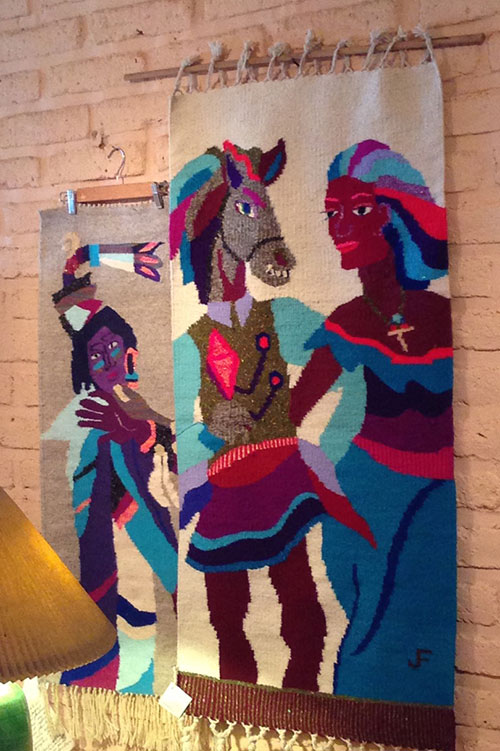 If I remember correctly, this design is from a story about Mayan royalty.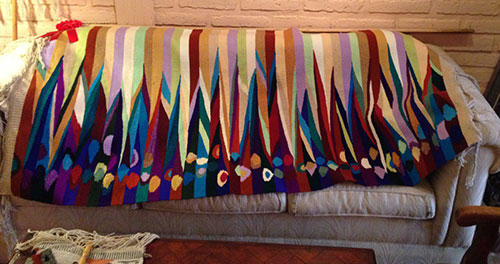 But this tapestry, called Jazz, is the one that grabbed my heart when I walked into the room. If you look closely, you will see all of the musical notes dancing across the tapestry. The sharp points are very tricky to create on this type of loom. Francisco is definitely a master. Ahem, make that "Maestro" according to Max Bird!
The Jazz tapestry will be traveling home with me at the end of April and will grace either my living room or dining room wall. I think it will look fantastic over the purple sofa, but I have to make sure it does not fight with the rug.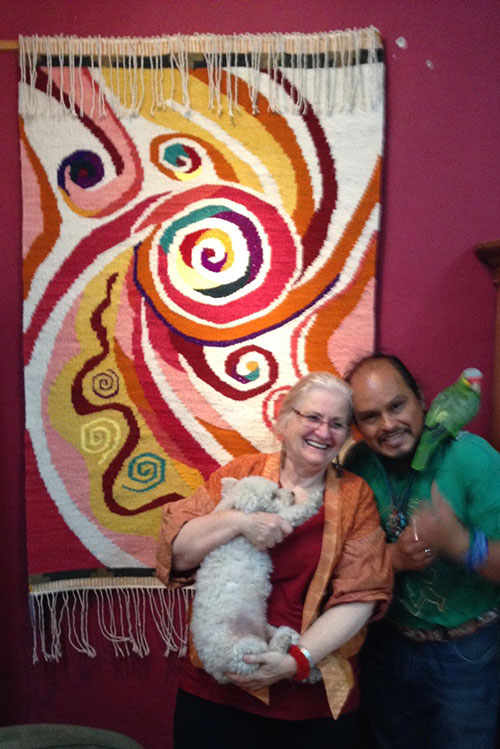 Here is a photo of most of the Aztec Studio family. Janice and Francisco are standing in front of another amazing tapestry with Precious Poodle and Max Bird. The two cats declined to join the photo session, which in my experience is pretty typical for cats!
While all may appear happy and jolly in these photos, the story of this family is both heart-breaking and remarkable. Francisco suffered from mental illness that kept him isolated and mute for over 20 years of his life. After Janice got him the medical attention he needed, he came out of his shell, learned to speak again, and has been able to create a productive life, learning and practicing the art of his ancestral family.
Janice, who faced many struggles in her own life, says that she, Max and Francisco have all rescued each other – and managed to create a good life in the refuge that is Aztec Studio.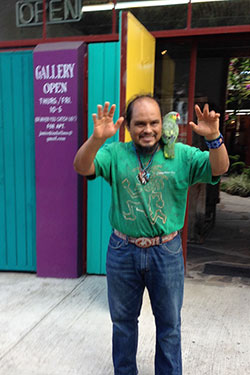 Francisco and Max came out to say Adios, Peace and Feathers – all warm wishes for the rest of our day. I look forward to another visit in a few days with a friend who is going to pick up a tapestry for her home.
If you would like a small tour of the studio, you can visit Janice's website at www.JaniceKimball.com.
And for the complete story of Janice, Francisco and Max, you can purchase Three in a Cage at Amazon.
Your Turn
So, what do you think of Maestro Francisco's tapestries? I am particularly fascinated by the pieces in the Cosmos series. Your thought?
Leave a comment below or over on our Facebook page. I would love to hear your thoughts.