Testing A Flower Collage Overlay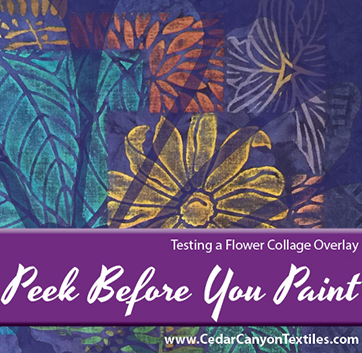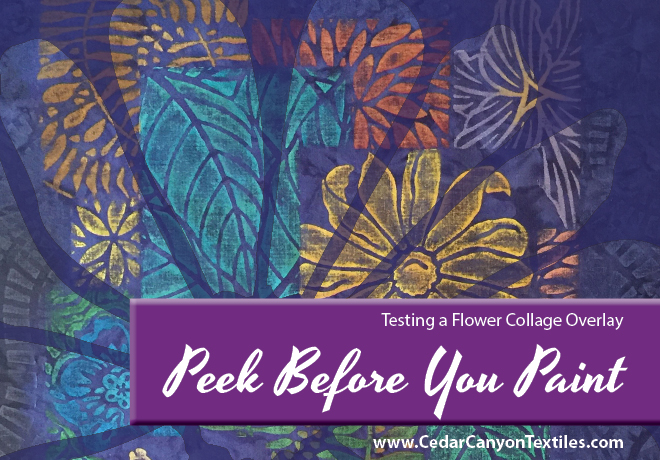 Do you ever have an idea for a project you are working on – but hesitate to check it out because testing the idea could destroy all the work you have already done? I often find myself wanting to play it safe rather than pushing ahead with something that might be really cool.
The nagging question for me is this: How much can I "test" without actually adding paint (or stitching, or whatever…)? Fortunately, this is one place where a little technology can be a big help. Let me show you an example.
[Tweet "Can we test a painted overlay without actually painting the fabric?"]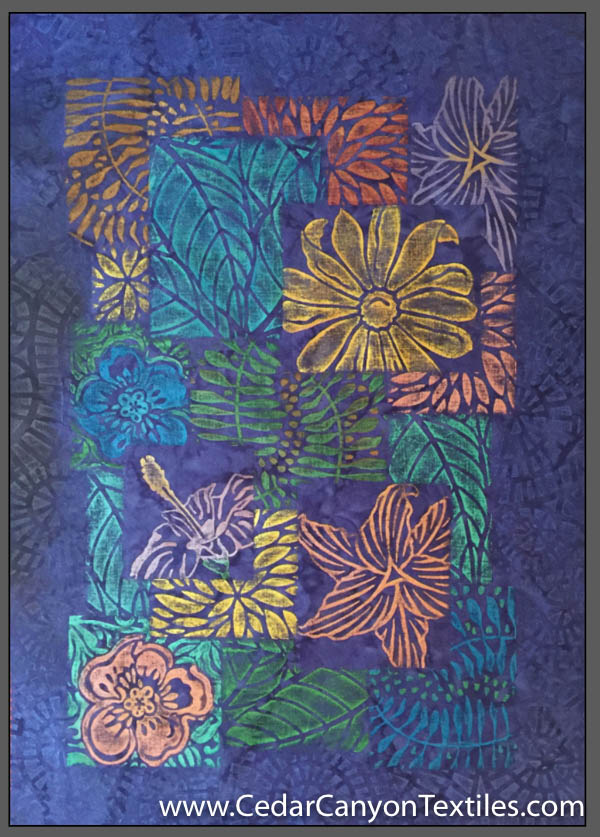 In one of the lessons in Whole Cloth Collage, we painted a series of images that appear to be overlapping. This is a flower and leaves collage I painted a few months ago.
One of the students asked if I had ever put a painted "overlay" on top of this type of collage? I was intrigued by the idea, but I didn't want to add paint unless I was sure I liked the result. It's the old chicken and egg thing. How do you know if you don't try it?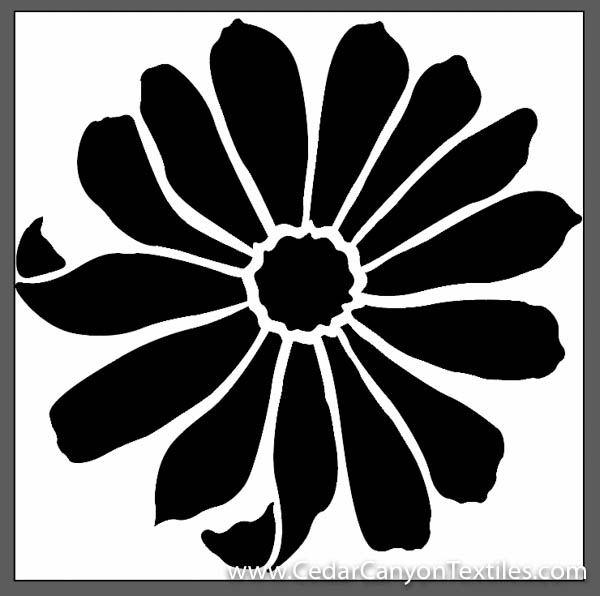 So, I decided to see if I could simulate the overlay on my computer screen using this Sunflower motif. A flower shaped overlay seemed like a good fit for the garden theme. And since I was not actually painting, I could test anything I wanted. Right?
(Now, I was cheating just a tad here. The sunflower drawing was left over from my days designing rubbing plates. If I didn't have that drawing handy, I would have had to make one.)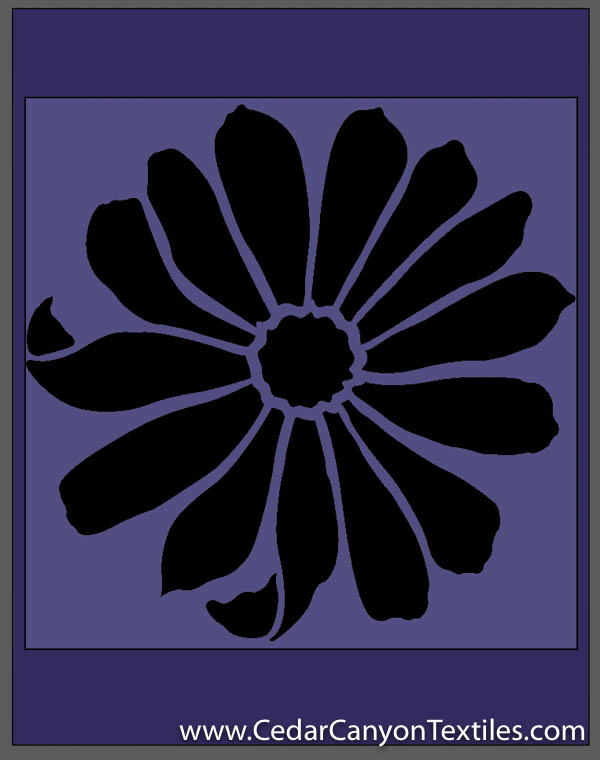 I took a deep breath and opened my (rarely used) Adobe Illustrator. I created a blue rectangle approximately the shape of the painted collage, and made it a little bit transparent. Then I arranged the layers so the flower was on the top.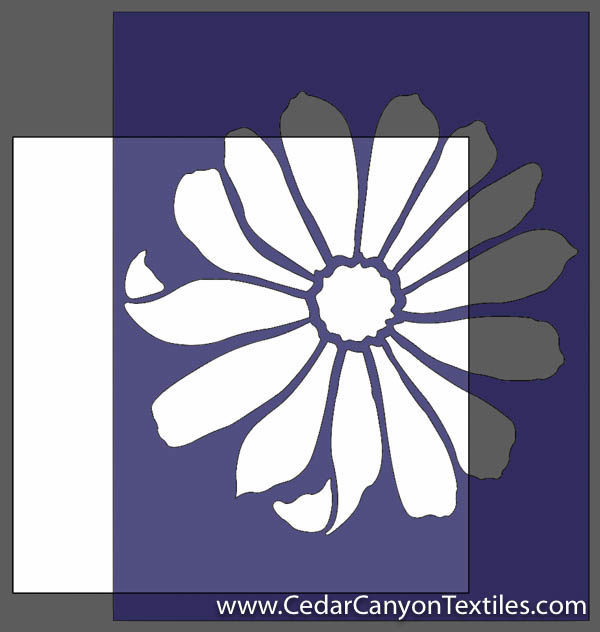 Next, I used one of the tools to create a compound shape. (That's a fancy term for the result when the software uses the top image to "punch a hole" in the bottom image, and leaves the openings clear so you can "see through" to whatever is underneath.)
Now, I have never made good friends with Illustrator, but I'm gaining confidence as I work with the simpler software for my Silhouette cutter. I am reasonably good at finding stuff in the online tutorials and patiently poking around until I figure it out. (I just need to get the "Illustrator is too hard" message out of my head!)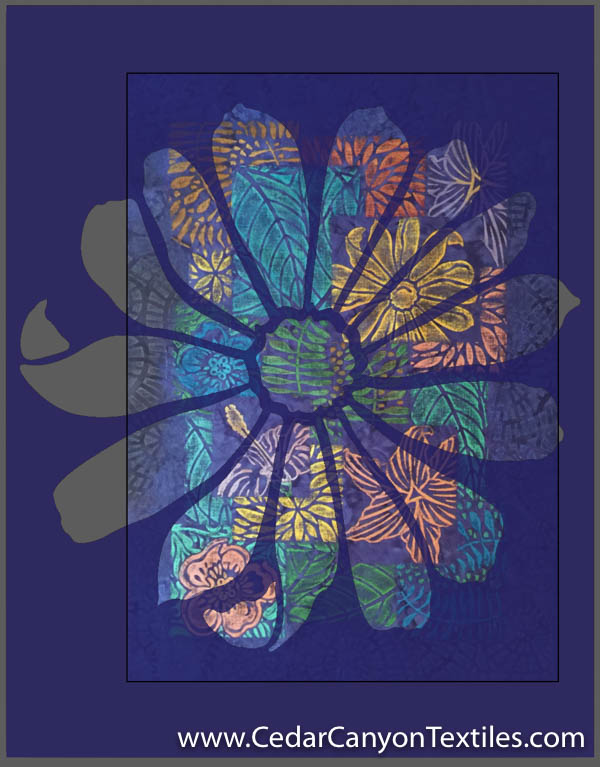 Next, I opened the picture of the painted collage, positioned it underneath the overlay, and then resized the overlay. I was getting there, but what would it look like without the edges hanging out? I have not figured out how to block out the edges with Illustrator, so I saved the file as a photo and hopped over to a photo program.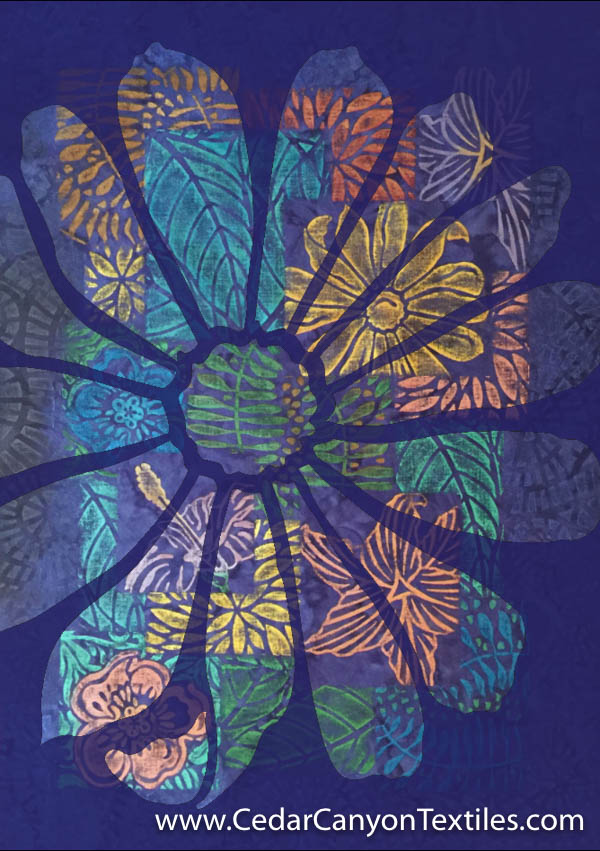 I cropped off the edges, and now I can see the collage with a simulated sheer overlay.
[Tweet "Preview a painted overlay — no paint, fabric or stitching required!"]
To Paint, Or Not To Paint?
Yes? No? Ummm… maybe not.
In this case, I don't like the way this overlay looks on the collage. It chopped up the effect of the overlapping images, and turned it into a visual jumble.
But, I see lots of potential for this type of overlay for a future project. If the overlay were part of the plan from the beginning? Oh goodness, this could be lots of fun.
My initial reaction was that my Flower Collage Overlay test was a flop. But wait a minute! As a TEST, it was totally successful! I was able to simulate the overlay and view the results without adding paint, cutting up fabric, or putting a single stitch in the fabric.
As much as I love to test ideas on fabric, there are times when a detour through the computer can save me a lot of time and potential unhappiness. I will probably experiment with a few more overlay ideas before I discard this idea completely, and it's nice to know I can preview the results without spoiling a lovely piece of art in the process.
And if I'm not really careful… I'll be on slightly better terms with Mr. Illustrator.
Your Turn
Do you test ideas on your computer – or have suggestions to share? Leave a comment for your friends in the community. We're all ears!