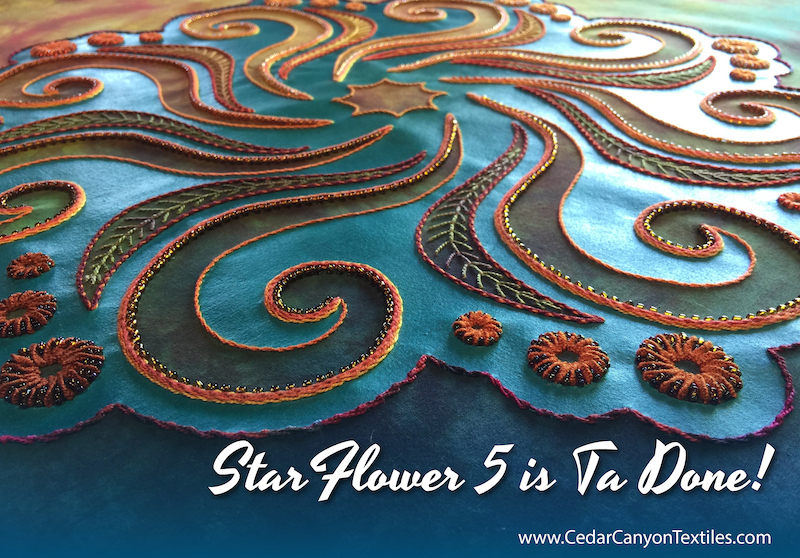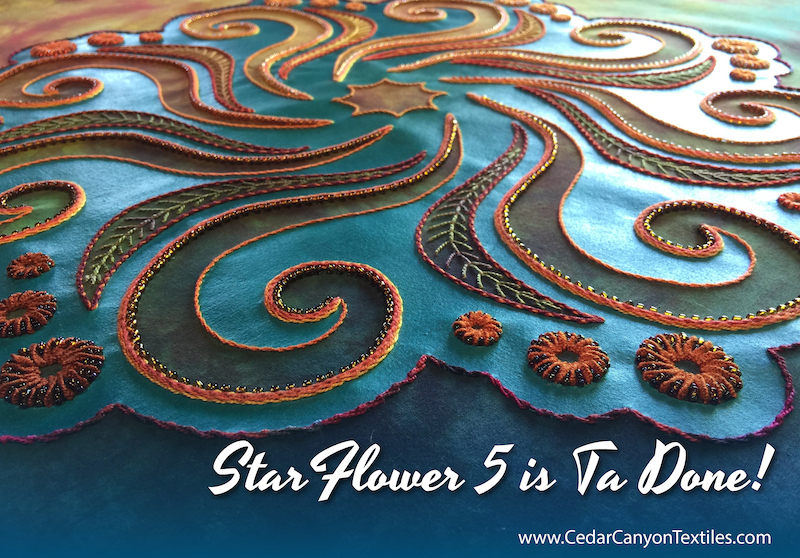 Completions are a big deal here at Cedar Canyon, especially when a project stretches out for months. Needless to say, I'm happy to say (shout?) StarFlower 5 Compete!!!
Ahem… did I say that loudly enough?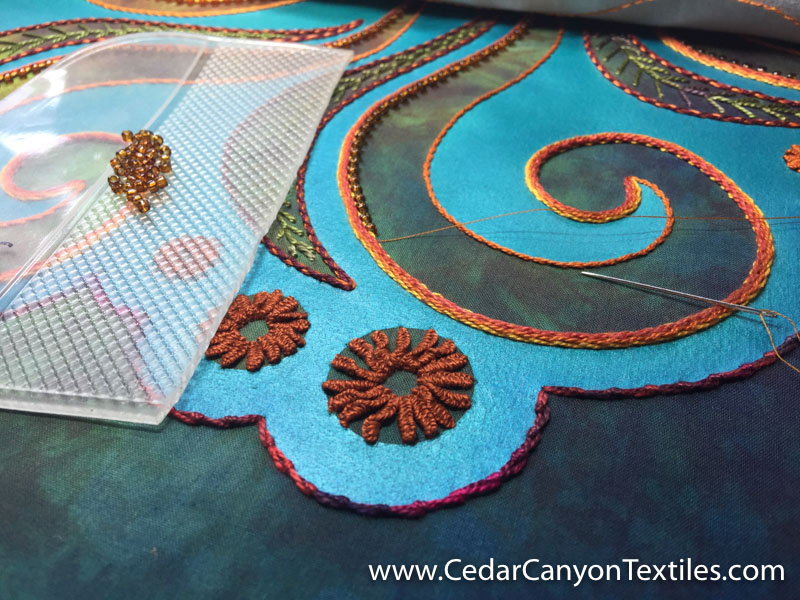 When I wrote my last update a few weeks ago, I was chuckling about the value of Ugly Brown Beads and how they were just the ticket for the dark side of this stitched painting.
Once the large question-mark shapes were finished up, I had to figure out what to do with the cast-on stitch flowers and the center shape. Let's have a look.
What to do with floppy stitches?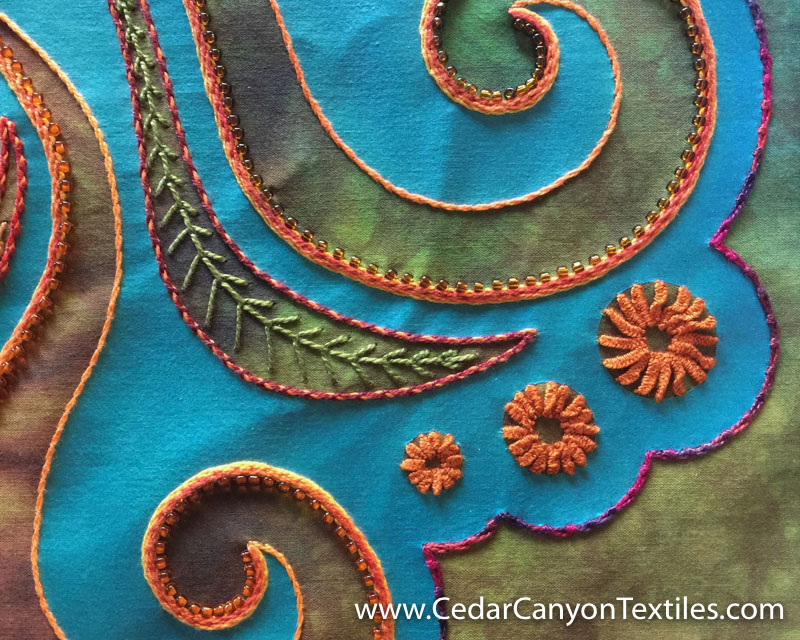 Those cast-on stitch flowers looked pretty perky as I stitched them, but they were looking pretty sad by the end of the stitching.
I use a frame to hold my embroideries as I work, and the fabric gets rolled on stretcher bars as I move from section to section. I add batting to pad the stitching, but things can still look a bit flattened by the end of the process.
Add some beads!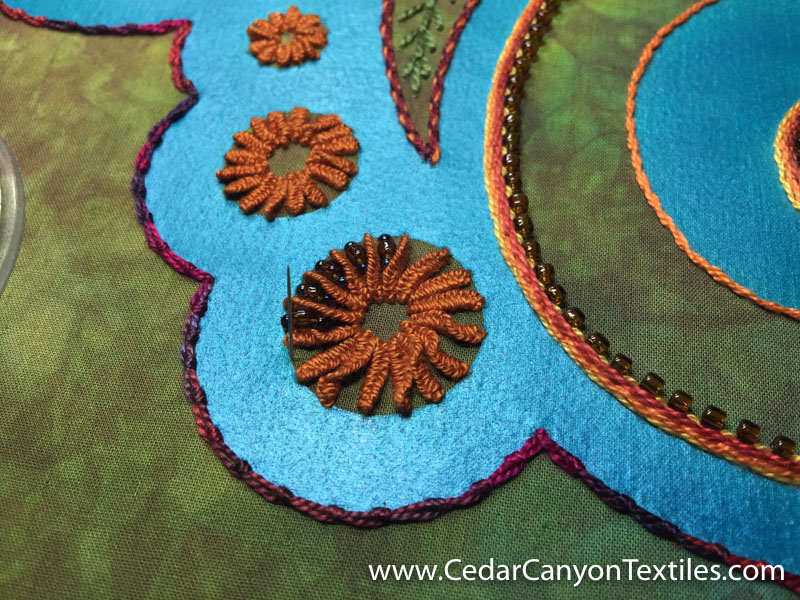 While I generally add beads to my embroidery stitches, that wasn't going to work for these flowers. Instead, I used a combination of size 11 and size 8 beads, adding the beads between the cast-on stitch "petals."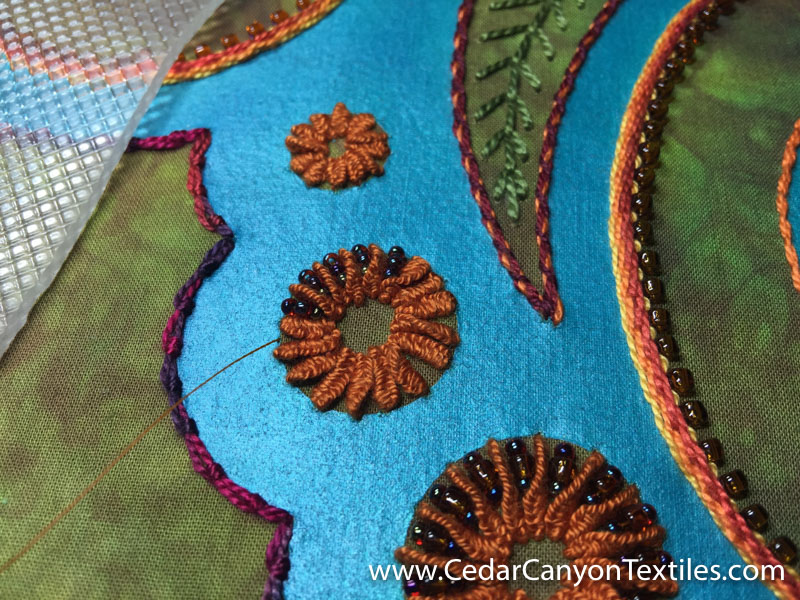 For the medium size flowers, I switched to 3 small beads. And for that tiny flower? Just one size 11 bead (barely) fit between each stitch.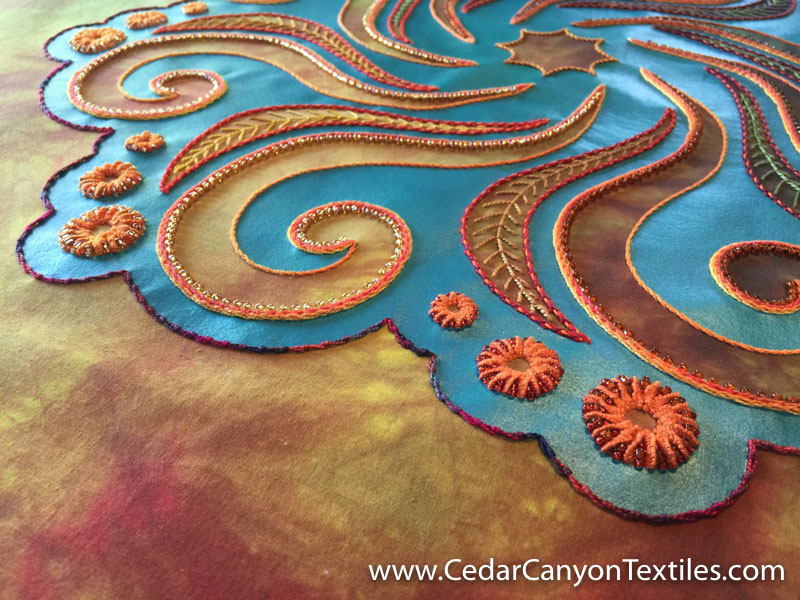 Choosing beads for the lightest and darkest sections of the embroidery was pretty straightforward, but I was stumped when I needed a medium-value bead for the transitional sections. I have a pretty good collection of the larger, size 8 beads, but only a handful of colors in size 11. Hmmm…
I finally decided that value was more important than color/hue, and chose a bright red small seed bead to go with the pumpkin-colored large beads. Up close, it's a bit jarring. But from a distance, it works!
Finish the middle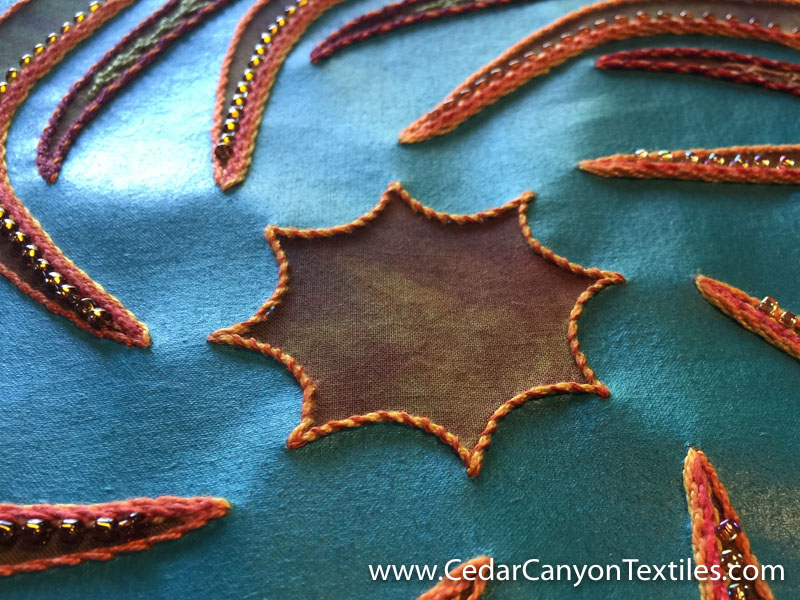 Oddly enough, the last bit to get finished was the center shape. I thought beads would be too much, but a simple stem stitch was not enough. After several false starts, I whipped the stem stitch with a darker color to tone it down and add a little texture.
StarFlower 5 Complete!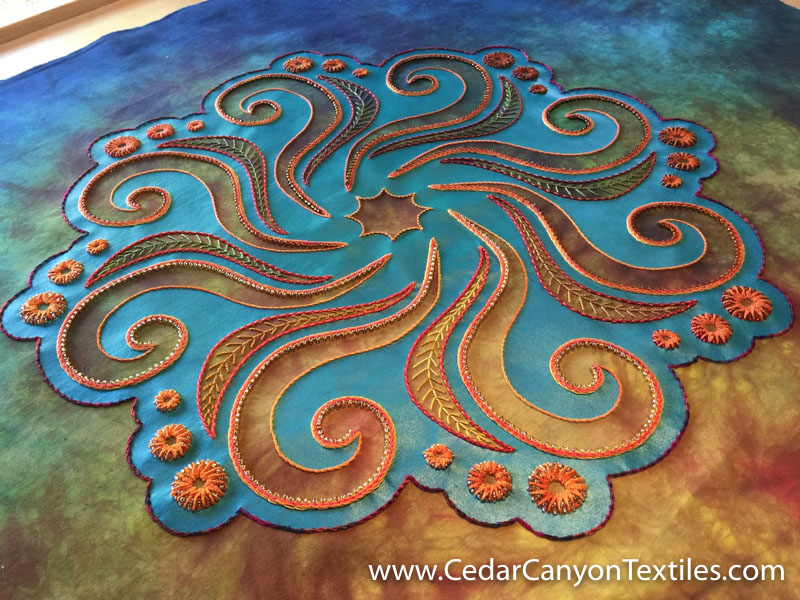 Overall, I'm delighted with StarFlower 5. The graduated color scheme was a lot more complicated than I anticipated, but it works beautifully with the background fabric. And I learned a lot along the way.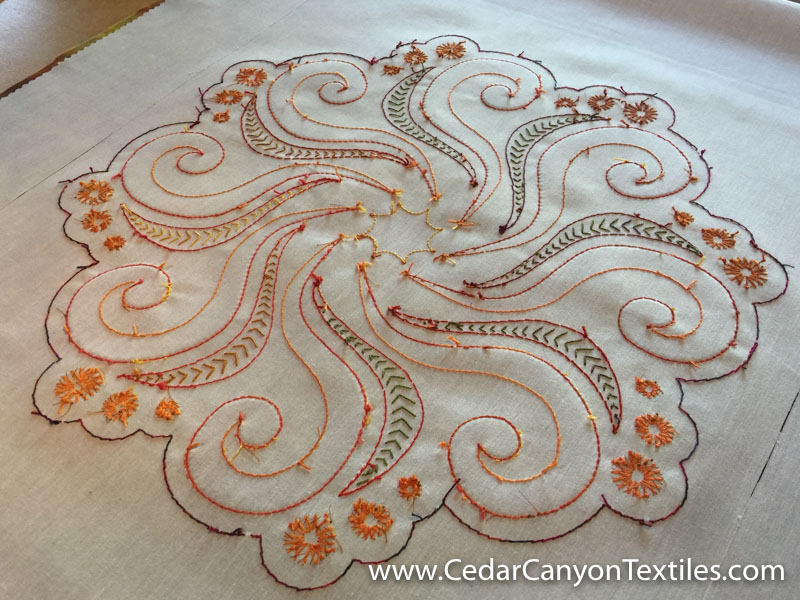 At the end of the process, I press my stitched paintings to smooth out any wrinkles and rumples. I try to remember to take a photo of the back, as I find them every bit as interesting as the front.
Thanks for reading
Your attention is the greatest gift you can give to a writer. I appreciate the invitation to be a small part of your creative world.
To join the conversation, leave a comment below. I would love to hear your thoughts about the latest addition to my StarFlower family.