Slow Stitching Adds Life To Painted Fabric

If you have been with me for a while, you know that I'm working on a major project. Yes, this baby will be a Show Quilt. It is the first big art quilt that I have tackled in about 10 years. It's a big undertaking, but I'm loving it!
The first big steps in this project included creating a design, cutting three very large stencils and stenciling the medallions on three panels of black fabric.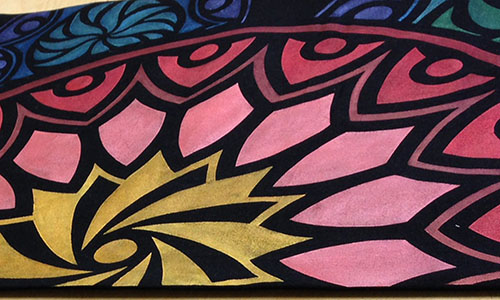 Here is a section of one of the largest medallions. As you can see, the painted images were quite lovely just as they were. I could have stopped there and gone directly to quilting, but my intent for the project is to add "life" to the painted shapes with hand embroidery. Slow stitching has elbowed its way into my life.
My good friends know that I have never been fond of hand work. As a matter of fact, I used to joke that I was allergic to needle and thread. I have my friend Jean to thank for "infecting" me with the slow stitching bug. Without her monthly class at the local quilt shop, I doubt that I would ever have started down this path.
I spread the three panels out on my work table a couple of days ago, and I promptly had to catch my breath. About half of the hand stitching is complete, and the difference between the stitched and unstitched sections is like night and day. The stitching truly brings the medallions to life!
The amazing thing to me is that none of this is "new." Stenciling images on fabric is not new. The stitches I am using are not new. I'm just pairing the stitching up with images that reflect my 15 years of working with Artist's Paintstiks. It's "new" to me, and I'm having great fun as I explore different ways to add texture and "life" to my painted images.
I have a lot of work left to do, but I am excited about the progress. You can be sure I'll be taking a long hard look at the judging categories while I am in Houston for Quilt Festival. Next year's entry deadline will be here before we know it! And with that said, I'll get back to work.
Resources:
My favorite stitching books are:
Your Turn
Do you have a favorite embroidery stitching guide to share with the community? Who got you hooked on stitching? Leave a comment below or over on our Facebook page. I would love to hear your story.