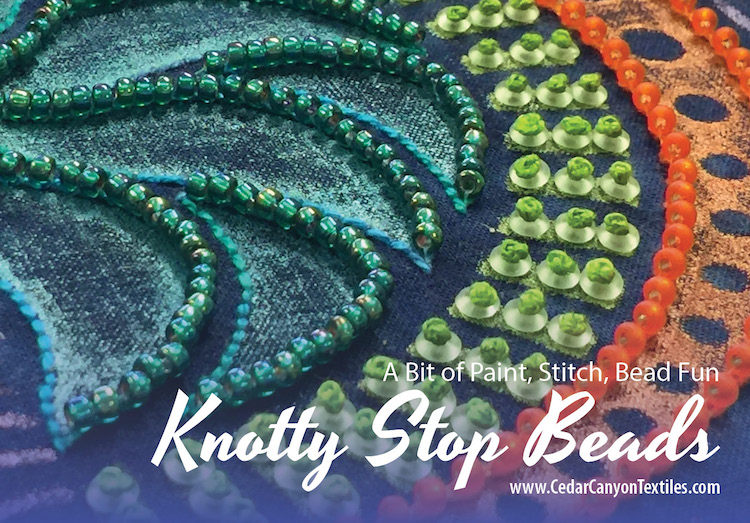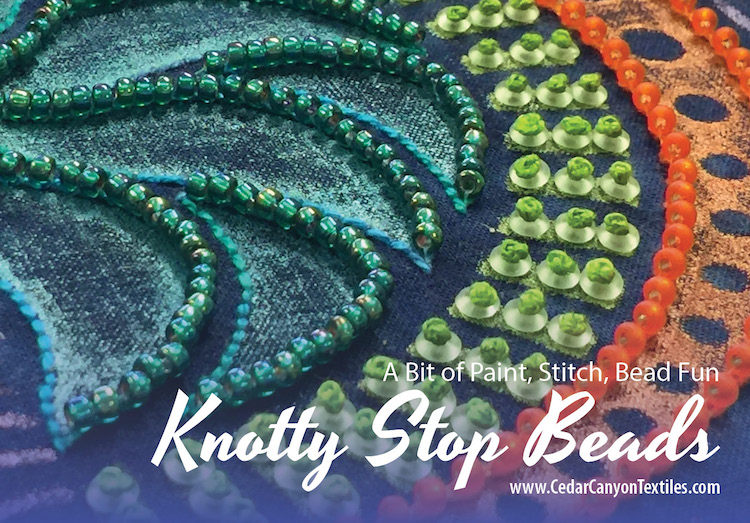 This Paint + Stitch + Bead thing is just too much fun! Even though I'm knee-deep in lessons for the next class, I try to sneak in a bit of stitching time every day. So… back at the embroidery frame…
I debated several options for stitching the linear shapes in this section of the design, and settled on O-Beads. My initial thought was to use a lime green stop bead, but after a few experiments, I decided French Knots would be more fun. Knotty Stop Beads? Why Knot?
[Tweet "French knots make perfect stops for o-beads. Give it a try!"]
After digging through my embroidery threads, I chose the Peas in a Pod size 8 pearl cotton from Artfabric.com, frosted O-Beads from the local bead shop and a milliner's needle small enough to fit through the O-Beads. Here is the stitching sequence:
Knotty Stop Bead Stitch Sequence
First, bring the thread up from the back of the fabric, and add an O Bead.
Next, wrap the thread around the needle several times. Three wraps with size 8 pearl cotton worked well for me. The knot was about the same size as using a size 8 seed bead to hold the O beads in place.
With the thread wrapped around the needle, go back down through the O-bead and into the fabric. Do not pull the needle through just yet.
Pull the thread so the three wraps are snug against the needle. (Just not so tight that you can't pull that needle through!)
Then pull the needle through the fabric  to finish the knot.
I love the way these Knotty Stop Beads look on my project! They look like a bunch of little people lined up and marching in a parade.
[Tweet "Jazz up your hand embroidery with O-beads and Knotty Stops."]
To Frame, Or Not To Frame…
Until recently, I did all of my hand embroidery without using a hoop or frame. I ordered a frame and a floor stand a few months back and am finding it very helpful. It's a totally different stitching experience, but it's becoming more and more a part of my routine.
I find it especially helpful to have both hands free for knotted stitches like the one I described today. I'll locate the information on the frame and stand and tell you about those in another post.
Your Turn
Are you a fan of Knotty stitches? Do tell! I'd love to hear all about your Knotty secrets!