Folklorio Dancer 2: Add Color with Extreme Stenciling

In a previous post, I showed you how I made a stencil from sign maker's vinyl using an image of a Folkorio dancer. Today, I'll show you how I added really bright color using Paintstiks, a brush, and my fingers.
Yes, you read that correctly. While I do most stenciling with a brush, the technique I call Extreme Stenciling requires a bit of finger-painting to finish things off.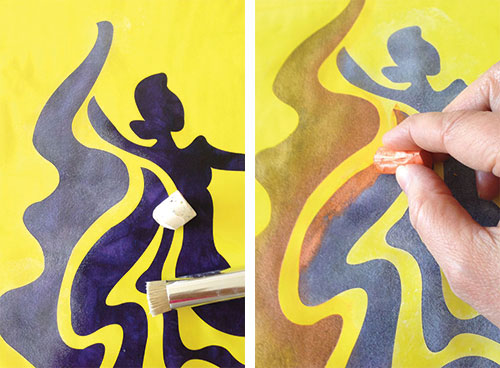 Because I was working on dark fabric, I started off with a base layer of Titanium White. Titanium White is one of the matte colors. It is extremely opaque and very useful for stenciling on dark fabric. A thin layer of white, applied with a brush, acts like a stain-killing primer on the walls. It blocks out the color of the fabric, which makes it much easier to create an opaque image with iridescent Paintstiks.
After I covered the entire dancer with a layer of white, I started adding iridescent colors. One advantage of the vinyl stencils is that they are incredibly thin – so thin that you can use the paintstiks directly on the fabric without creating a buildup around the openings in the stencils.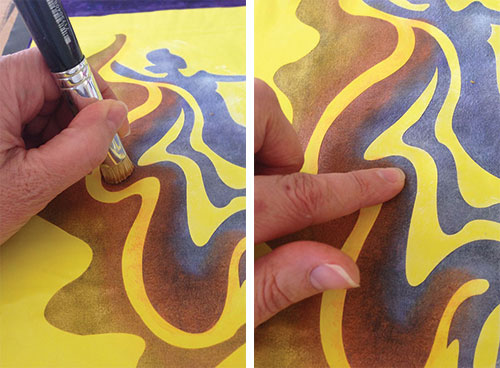 For each color, I added the paint directly to the fabric with the Paintstik, then smoothed it out with a brush. By "scrubbing" color into the fibers with a brush, I know it will adhere really well in spite of the fact that I am adding several heavy layers of paint.
Then I added yet more color with the paintstiks and smoothed the color with my fingers. Using my fingers for the final pass allows me to create a very smooth finish with no brush marks.
Some people have asked me if I have concerns about "finger painting" with Paintstiks, and my answer is "No." All of the iridescent colors and most of the matte colors are non-toxic. The only colors to be careful with are the Cadmium colors and Cobalt Blue in the matte color line as they contain heavy metals in the pigments.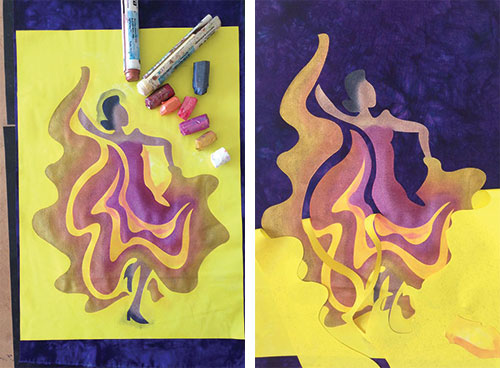 I used a range of iridescent Paintstik colors for my dancer. I used Light Gold, Orange, Watermelon, Magenta and Red for her dress and Charcoal for her hair and shoes. To create the skin tone, I used a layer of the Iridescent Blender and then gently added a small amount of Copper to give her a nice tan.
Once the painting was finished, I peeled off the vinyl to reveal my lovely lady. I love this part of the process! The only negative side of the vinyl stencils is that they can't be reused. They stretch out of shape when they are peeled off the fabric. Thankfully, the vinyl is inexpensive when purchased from a Sign Supply business and it is no big deal to cut a new one if I want to make another version from this image.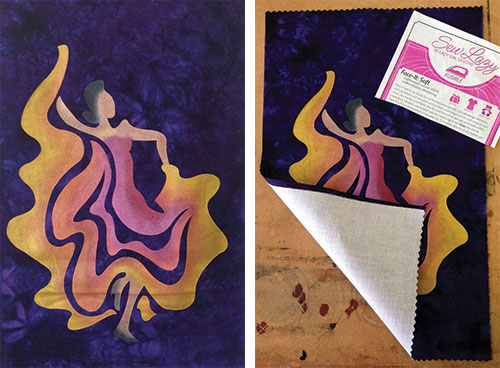 Here's my lovely dancer in all her glory. I think she is quite lovely for a quick experiment! At this point, I pinned her up on the design wall to dry. The climate here in Chapala is very dry during the winter. I was pleasantly surprised that the paint was dry enough to heat set the next day. I can't do that at home!
I'm going to do hand embroidery on this piece, so I added a backing of Sew Lazy's Face-It Soft interfacing after I heat set the paint. Face-It Soft is a light, woven fusible interfacing that is just perfect for embroidery. It gives fabric enough body that I can stitch without using a hoop, but it does not interfere with my stitching.
That's all for now. I'll share more pictures of my dancer as I add stitching over the next few weeks. (Assuming, of course, that I don't get side tracked with more stenciling adventures!)
Resources:
I used the following Iridescent Paintstiks to paint my dancer: Light Gold, Orange, Watermelon, Magenta, Red, Blender, Charcoal, Copper.
You can will also find Titanium White and Ivory Black matte colors on the Paintstik Singles page in the Online Store.
Face-It Soft is part of a great line of interfacing from Joan Hawley over at Lazy Girl Designs.
Your Turn
Have you done any "Extreme Stenciling?" If you have a method for creating bright, opa   que images with Iridescent Paintstiks, I would love to hear how you do it!
Leave a comment below or over on our Facebook page. I would love to hear your thoughts.