Create A Thread Tracking System

After last week's column on Choosing a Thread Palette from a bunch of autumn colored flowers, reader Bret Adams asked a really good question, "How do you keep track of your threads so that you know what you need to buy when you are shopping with vendors?" Bret noted that it is much too easy to continue collecting favorite colors — and not so easy to fill in the gaps in a collection.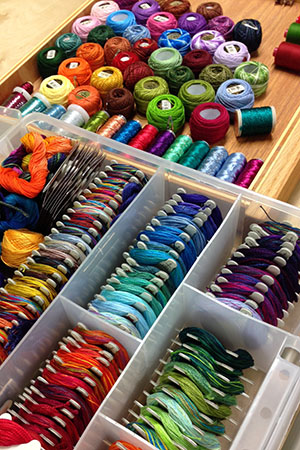 My first reaction was to say that I just "wing it" when I'm shopping. Which is partially true. But the question made me sit down and really think about this for a while. After all, I'm heading for Quilt Festival in Houston next week, and the last thing I need to do is to waste money buying thread colors I already have.
Hmmm… time for my inner engineer to do a little problem solving. I confess that I ignore the part of my brain that needs to sort and organize 95% of the time. After all, sorting and cataloging is not on my list of fun things to do. But even I have to admit that it is a useful thing to do, as long as I don't get too bogged down.
With that said, this is how I created a simple Thread Tracking System that should serve me well for the foreseeable future.
Step 1: Find The Threads
The first thing I did was to open up my thread tote and pull out one of the drawers from my thread chest. I have been working on transferring the skeins of threads to thread winders, so most of them were tucked away in a tote. But "most" is not helpful when you want to know what you have. The trick is to find all of the places where you have thread stashed and get it all out on the table.
Step 2: Sort by Color and Take Photos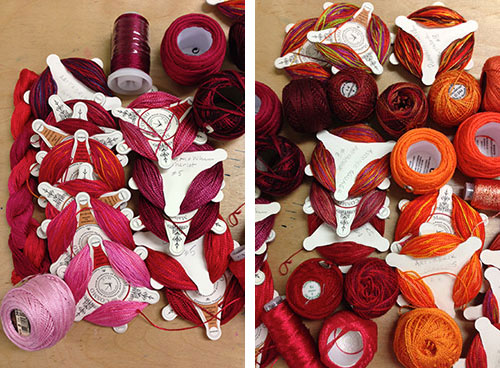 The next task was to sort all of the threads by color and take photos of each color group. It took 10 photos to work my way down through the color collection. There is some overlap, but that is better than missing something.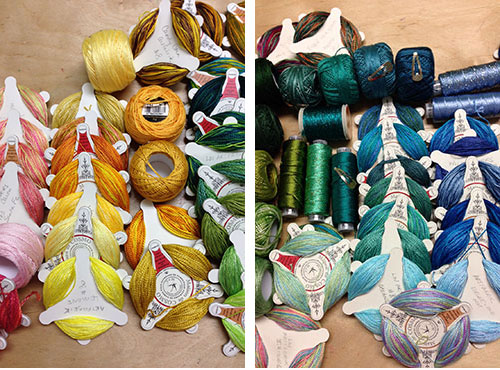 This sort-by-color exercise is good for two things: I can visually see where colors are missing (as long as I have my phone) plus I get a visual reminder of where something might be stored as the thread winders and balls of pearl cotton do not fit easily in the same tote.
Step 3: Sort by Manufacturer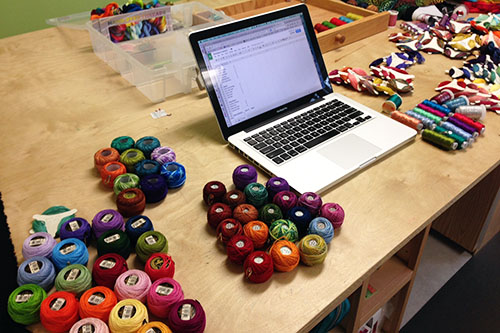 At this point, my inner visual artist was happy. I had it all sorted out and a good set of pictures. Done! Right? Well, no. It was time to make a list to make sure I won't come home with (more) duplicates.
I dutifully sorted out the thread by manufacturer and type. Artfabric, Caron, DMC, Presencia, Valdani, Razzle, Dazzle and a few others. I did find some duplicates, but not too many. Yeah! I also found some size 12 pearl cotton that is too thin for my tastes that I can pass along to a couple of friends.
As you can see, I dragged my laptop out to the studio to avoid going back and forth to the office.
Step 4: Make A List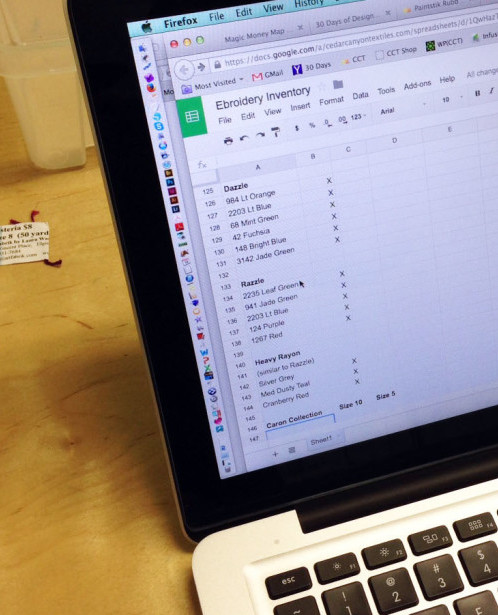 Now for the tedious part. Make a list. Make a doggone list. (That's not quite the adjective my husband uses when he reminds me to make a list, but it's much more appropriate to publish.)
I wanted a list I could view from my laptop, iPad or phone. Since all my Email goes through Gmail, I settled on a simple spreadsheet in Google Docs. I'm sure there is an App somewhere for this type of stuff, but I didn't want to get sucked into the vortex of App-land. I just wanted to make a simple list I could view from anywhere.
My list is a simple spreadsheet listing manufacturer, color number/name, and thread size. Most of my collection is Pearl Cotton, and most of my threads are sizes 8 and 5. I'm sure it will expand, but for now it is pretty simple.
Once the list was finished, I printed a copy for my trip to Houston. But I still want to access to my photos, so on to the last step.
Step 5: Store List and Photos in the Cloud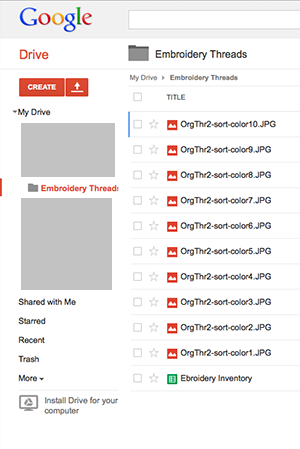 If there is one thing I know, it is that I can misplace a list faster than I can make one. (Check with my husband on that one.) So, the list needs to be stored in a place "out there" in cyberspace where I can access it when the paper list goes missing.
Since I created my inventory list in GoogleDocs, it was already "out there" on my Google Drive. I downloaded the Google Drive app on both my phone and iPad, so I am good to go. For good measure, I transferred a copy of my Thread Colors photos to the a folder that includes my Thread Inventory. That was so I will be able to SEE my thread collection even if I manage to delete the photos from my phone.
What's Your Thread Tracking Strategy?
That's probably more than you ever wanted to know about how I keep tabs on something like a thread collection, but I found the exercise helpful. Now, what about you? Do you have a system that you are using now? Do you have any suggestions that would help me out?
This is my first attempt at making a tracking system for something so colorful, so I'd love to hear your thoughts. You can comment here on the Blog or head over to our Facebook page and post a comment there. Thanks!