Whenever I do paintstik demos, someone inevitably asks "how do I clean up?"  After playing with these paints for 10 years, I've gone through a lot of different cleaning products. Here are my favorites.
Cleaning Brushes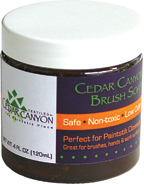 My favorite cleaning for cleaning brushes depends on how long they sit before I clean them.
If I clean them up right away, I use the Cedar Canyon Brush Soap. It's an oil-based cleaner that is non-toxic and gentle on your skin. I dip the brush into the jar of soap, and then swirl it around in the palm of my hand until the soap is thoroughly worked into the bristles. Then I rinse with warm water and repeat if necessary. I squeeze the water out with a towel and leave the brushes to dry.

If I've been lazy (it happens frequently) and I've left my brushes for more than a day or two, I use Citra-Solv to clean the brushes. Citra-Solv is a concentrated orange-based solvent. I purchase it at the local health food store, but you may find it in the organic section of a grocery store. I stand the brushes in a container that has Citra-Solv in the bottom and let them soak for a bit. Then I scrub each brush on a clean paper towel to remove the paint. If there is a lot of paint on the brush (or if I leave them without cleaning for a loooong time) it may take a couple of cycles through the process to clean the brushes.
I like Citra-Solv much better than typical solvents like mineral spirits or paint thinner, but it can still be a little tough on the hands. And one more tip on Citra-Solv — choose your container carefully. I once had a student pour this stuff into a styrofoam cup and we promptly had a big mess — it ate through the cup!
One important note on cleaning brushes — you can clean your brushes with soap and water if you don't mind working at it a bit harder. The main ingredient in the paintstiks is wax, so choose something like Dawn dish soap or anything that will cut grease. It's more work, but it can be done.
Cleaning Your Hands
While I'm working, I keep some baby wipes handy. That way I can wipe my hands  when it's important not to accidentally smear paint where I don't want it.
When I finish up, there is no substitute for our brush soap. This stuff is great — it even takes the paint from underneath my fingernails without drying out my skin. Much better than regular soap and water — but that works too with a little more elbow grease (followed by a dollop of hand cream).
Cleaning Rubbing Plates
I always spray my rubbing plates with repositionable adhesive (like 404 or KK2000). The upside is that my fabric stays where I want it — the downside is that my plates are sticky and they collect lint and dust like crazy. So once in a while I need to clean them off and start over. Fortunately, Citra-Solv will remove sticky spray along with any paint buildup on the plates.
If you don't have (or can't locate) Citra-Solv, keep in mind that all of the companies that make sticky spray also make products to remove the spray. (Now there's a built-in market…) So look for products like DK-5, HR-Zero and Remove. Sewing machine dealers are a good place to find these products as they use sticky sprays for machine embroidery.
Cleaning Stencils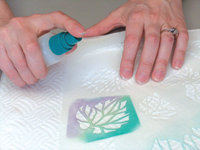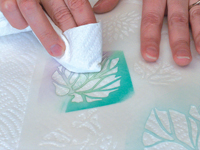 Even if I wipe my stencils as I work, it seems that I always wind up with some paint build-up on my stencils. Because stencils are delicate, I prefer to spray them with Citra-Solv (or another solvent) and then gently wipe with a paper towel or soft cloth.
Cleaning Up Clothing
I always wear an apron when I'm around paints so I don't paint my clothes. (The only time you see me without one is on the set of Quilting Arts TV and then I have to be really careful!) Unfortunately, stuff still happens. We have a "play table" in the Cedar Canyon booth at trade shows, and last spring I had an unhappy surprise. A paintstik must had dropped from the table onto one of our chairs. I didn't actually sit on the paintstik, but I did get paint on the backside of my tan slacks. (A wrap-around apron maybe???) I was not happy.
Fortunately, my trusty trade-show assistant Mary Brandt had a solution for me. She took the bottle of our Cedar Canyon Brush Soap back to our hotel room with us and used it to clean the paint from my slacks. (And this was a day later — we forgot it the first day.) I had no idea that this would work, but Mary discovered this trick after smudging some dark blue paint on the yellow jeans she was painting. She let the paint dry and heat set the design, then used the brush soap to clean up the smudges — even after the paint was dry. I certainly can't guarantee that our brush soap will remove errant paintstik color from your clothes, but it's worth a try if you've accidentally painted yourself.
All Cleaned Up!
Well, there you have it. My cleaning basket is always stocked with Cedar Canyon Brush Soap, Citra-Solv, baby wipes, and a can of spray remover. If you have a favorite way to clean up, post a comment. Maybe we'll find another great product!