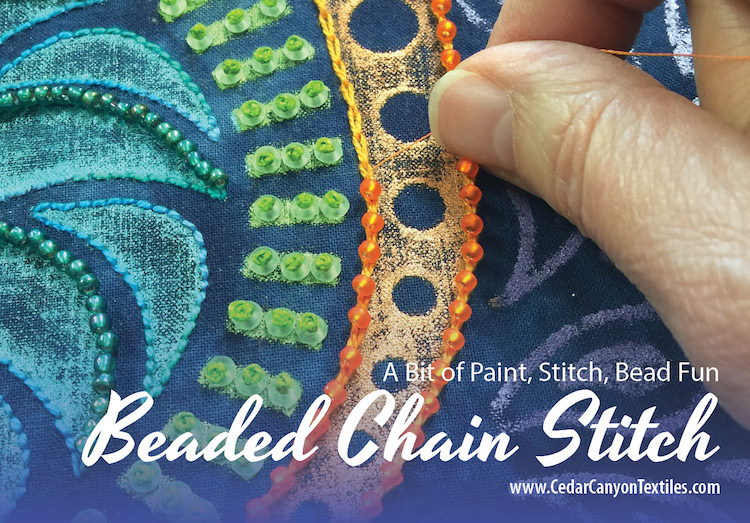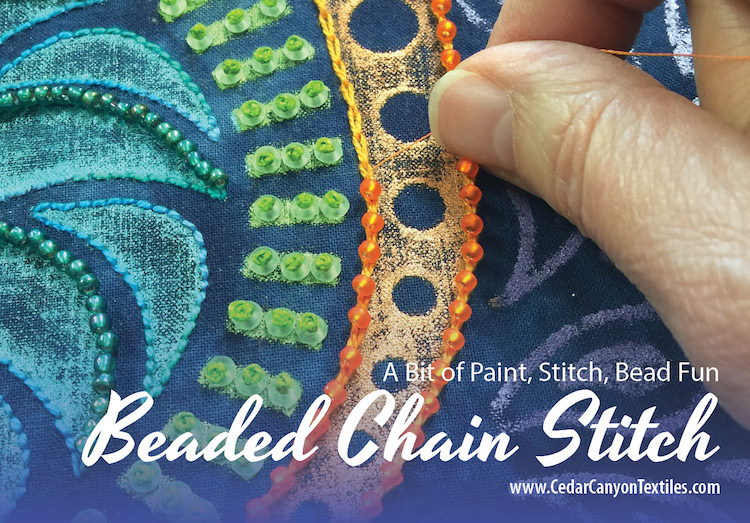 When it was time to dress up the orange chain stitch of my current project, I decided that a Beaded Chain Stitch would be just the ticket.
[Tweet "Dress up a simple chain stitch with beautiful beads."]
But… which color of orange? Why is it so hard to choose when there are so many yummy options out there? Is is just me?
I had trouble seeing how the beads would look, so I put a line of beads on two different needles and had a much better look at the actual color.
I ultimately decided that the clear orange created a nice counterpoint to the shimmer of the turquoise beads. I'll save those pearly orange lovelies for another time!
And wouldn't you know it, my beading box just happen to contain orange Silamide beadstring. I wondered if I was going totally overboard when I purchased that kit from Nancy Eha, but it sure has come in handy!
I do my stitching first, then add the beads. I find it easier to add the beads with Silamide rather than struggling with adding beads to pearl cotton. In my world, small beads and heavy thread don't mix. If you find a different way that works better for you, go for it!
As with the Beaded Backstitch I showed in an earlier post, the beads are added one at a time by wrapping the thread under each link in the Chain Stitch. Chain stitch plus pretty beads equals Beaded Chain Stitch. Easy!
The spacing of the chain stitch gives a different look than the turquoise beads at the bottom of this photo. (Those were wrapped around a short Back Stitch.)
Now, I just have to decide what to do with the purple paisley shapes. Stay tuned!
[Tweet "Tiny beads and heavy thread? See how you can make it work."]
Your Turn
Have you been following along with the Paint, Stitch, Bead series? Are you interested in learning more? I'm thinking of turning this into a monthly mini-class, and I'd love to hear your thoughts.