Are Artists Cheating With Technology?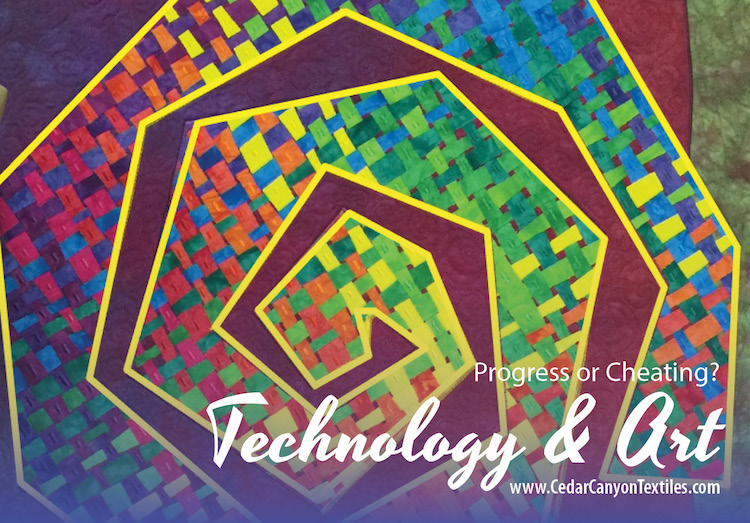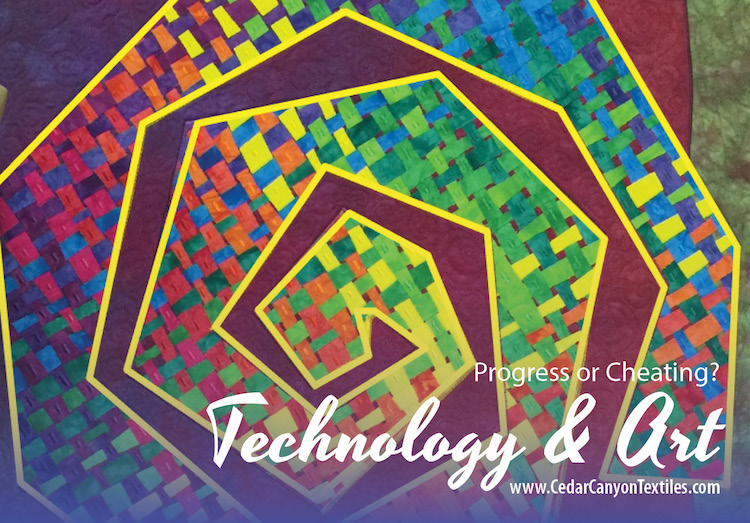 I had interesting conversations with two friends during the past week. In the first conversation, one friend said some of the art quilters she knew were dead set against using "techie" helpers (even things like Thermofax screens) for making art. Essentially, the argument was we (those of us embracing a new tool) were somehow cheating with technology.
Fast forward to my second conversation at lunch on Tuesday. I related this idea to Jane and she just had a good laugh. Her take was this: "Is it cheating to use a dishwasher? Is it cheating to use a cell phone? If a tool is available to make a step less painful, then use it!"
[Tweet "Technology and Art: Is it progress or cheating?"]
I have this quilt called Refracted Plaid hanging in my studio. I finished it in 2002, long before the current batch of "techie" tools was available. But even then, I used an opaque projector (the technology of the time) to take a very small image of the chunky spiral and blow it up into a larger image.
I cut a smaller size of the spiral from freezer paper and used the stencils to add the image to the border of the quilt with Paintstik colors. Even with the help of the opaque projector, this "resizing" effort was a lot of work.
As I looked at the quilt a few days ago, I wondered how quickly I could create this spiral using the Silhouette Studio software. Here is the sequence of steps I followed:
First, I took a photo with my cell phone and sent it over to my computer. Then I cropped the photo of the and dragged it into the Silhouette Studio software. (Technology helpers: Cell phone camera, photo sharing, photo editing program, Silhouette Studio)
Next, I set the image to be about 50% transparent to make it a little less bold.
Using one of the freehand drawing tools, I followed the outline of the chunky spiral to create a closed shape.
Once the shape was complete, I discarded the original photo and added a fill color to the shape.
The entire process, from taking the photo to having a useable shape in Silhouette Studio took about 15 minutes. (If this is cheating, I'm guilty as charged!)
And you know what? The drawing is just the beginning. Using the Silhouette Studio software, I was able to make copies, mirror images, resize and rotate the shapes in ways that I would never have tackled if I were drawing and cutting the stencils one at a time.
So, are we cheating with technology?
I'll be the first to say that everyone should create their art in a way that makes them happy. I'm also a believer in learning to do things according to "the rules" before striking off on my own path. (Those "rules" got there for a reason, and there is often great wisdom to be gained by learning traditional methods.)
But, are we cheating with technology? Not in my world. Just as we have embraced dishwashers, refrigerators, washers and dryers in our households, we can take advantage of the high-tech helpers available to artists today.
You can draw and cut stencils by hand if you wish, but I'm keeping my Silhouette Cameo. I'll save my hands for painting, embroidery and beading. I'm more than happy to do those things by hand – the old fashioned way.
[Tweet "Cut stencils by hand if you wish. I'll keep my Silhouette Cameo."]
Your Turn
What's your take on this "cheating with technology" idea? Do you love new tools or hate them? Do you feel like you're cheating when you use them?
Leave a comment below. I'm not sure why this topic got so stuck in my mind, and I'm really curious to know what you think about it. Thanks!