Add Texture And Sparkle With Beaded Backstitch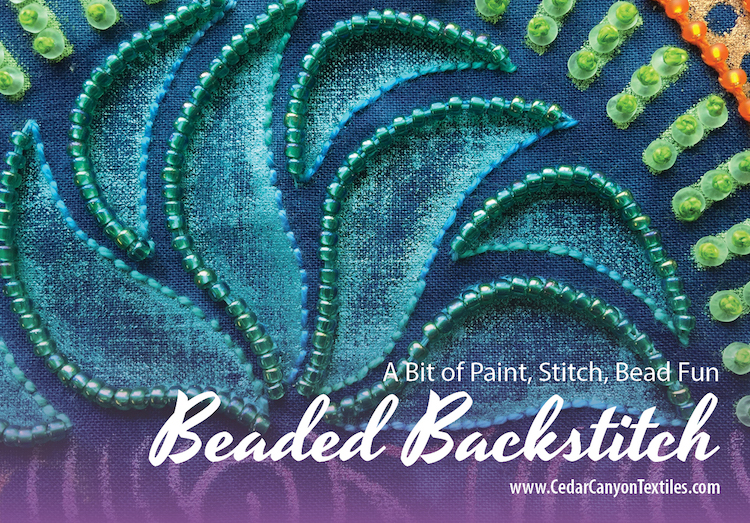 [vc_row][vc_column][vc_column_text]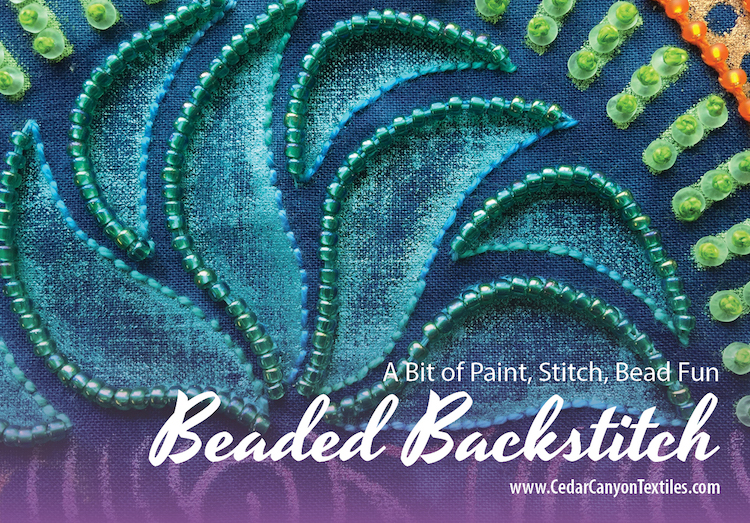 Paint plus stitch is an amazing combination. To add yet more texture, I decided to play with beads. Let's take a look at what I call Beaded Backstitch.
[Tweet "Got small beads and heavy thread? See how you can make it work."]
I don't try to add beads while I'm stitching. The needles that work for pearl cotton are too large to go through my seed beads. (There may be a Perfect Needle out there somewhere, but it doesn't live in my studio.) To get around this problem, I outlined the shapes with Backstitch first.
The beading kit I purchased a year or so ago has finally come in handy. I found bead thread in just the right color. I made a quick trip to the local bead store (a Dangerous Place!) and was ready to start.
Instead of wrapping the backstitch with a second embroidery thread, I used Silamide beading thread and added a size 8 seed bead with every wrap.
I have no idea if a proper beading instructor would teach you to add beads this way, but it works for me! (Since I'm not a proper beading instructor, and I feel perfectly free to break any rule I don't know about. I hope that's okay with you!)
I paused before going too far to have a look. I liked the raised effect and decided it was a keeper.
The beaded lines were looking a bit wobbly, so I pondered how I might make the lines stay a bit straighter.
I settled on running a double-strand of Silamide from one end of the beads to the other, and securing the threads at both ends. (For good measure, I did this twice.)
The results? Lovely curved lines of Beaded Backstitch, and not a bead out of place. Such fun!
[Tweet "Changing your mind is easy with Shelly's Stitch-then-Bead method."]
Stitch, Then Bead
There are several advantages to adding beads after the fact. The first advantage is logistical – I can use any size needle and thread for the embroidery without worrying about whether they will fit through the hole in the beads.
The second advantage is the ease of changing my mind. If I don't like the beads, I simply snip the thread and pull them out – without removing the embroidery stitches. (And, I confess, I change my mind often. Especially when I'm off on a new adventure!)
I'll share more in future posts. This is going to lots of fun!
Your Turn
Do you play with beads and embroidery? Do you add beads as you embroider — or add them after the fact? This is a new adventure for me. I'd love to hear your thoughts.
[/vc_column_text][/vc_column][/vc_row]